Save 20% on everything including cabins*
Hop across the Strait for your winter getaway and save heaps with this ferry hot winter deal. You'll save 20% on all fares, including for travel during the school holidays. What's more, if you pre-book your own private cabin you'll save 20% on that too!
Our Best Ever Ferry Deal
If you're island hopping between now and the end of September, sail with us and save 20% on everything. That's right, you'll save 20% on all of our fares, including our lowest Saver Sail fare. Pre-book your own private cabin and you'll save 20% on that too! Subject to availability.
If your booking includes a vehicle and you book in June for travel in July you'll also triple your Airpoints Dollars. Find out more.
Catch-up with friends or family, play in the snow, or relax in some hot pools - there's always a reason to head to the other island.
Book now for the school holidays. Our ships are kid-friendly with live entertainment on selected sailings, as well as free fast WiFi, free movies, free activity packs, and a colouring competition.
Terms and conditions
You'll save 20% on any of our best available fares and all cabins pre-booked before you board. The discount doesn't apply to cabins purchased on board. The discount applies to all passenger and vehicle fare types. Your booking doesn't have to include a vehicle. Cabins and fares are both subject to availability.
This offer doesn't apply to luggage and extras, and food and beverage.
This offer is valid if you book on Bluebridge from 10 June 2019 to 11.59pm 31 July 2019 (NZST) and travel by the end of 30 September 2019. Bluebridge reserves the right to cancel or change the promotion at any time without notification.
Payment must be made when you book. Farmlands members can pay with their Farmlands card when they check-in.  
Standard fare conditions apply - bookings are not able to be transferred to another person and date changes are subject to availability. Date changes are to be made within the travel period of this promotion otherwise an upgrade fee will be applied. If notification isn't received 24 hours before check-in the booking cannot be changed to another date.
This promotion cannot be used in conjunction with any other special offer except the Triple Airpoints promotion. 
This promotion is only valid on new bookings and cannot be applied to existing bookings that have already been made prior to the start date of this promotion. 
The deal cannot be redeemed for StraitNZ Bluebridge freight bookings.
To book enter or quote the promo code HOTDEAL online at bluebridge.co.nz or via the customer service centre on 0800 844 844.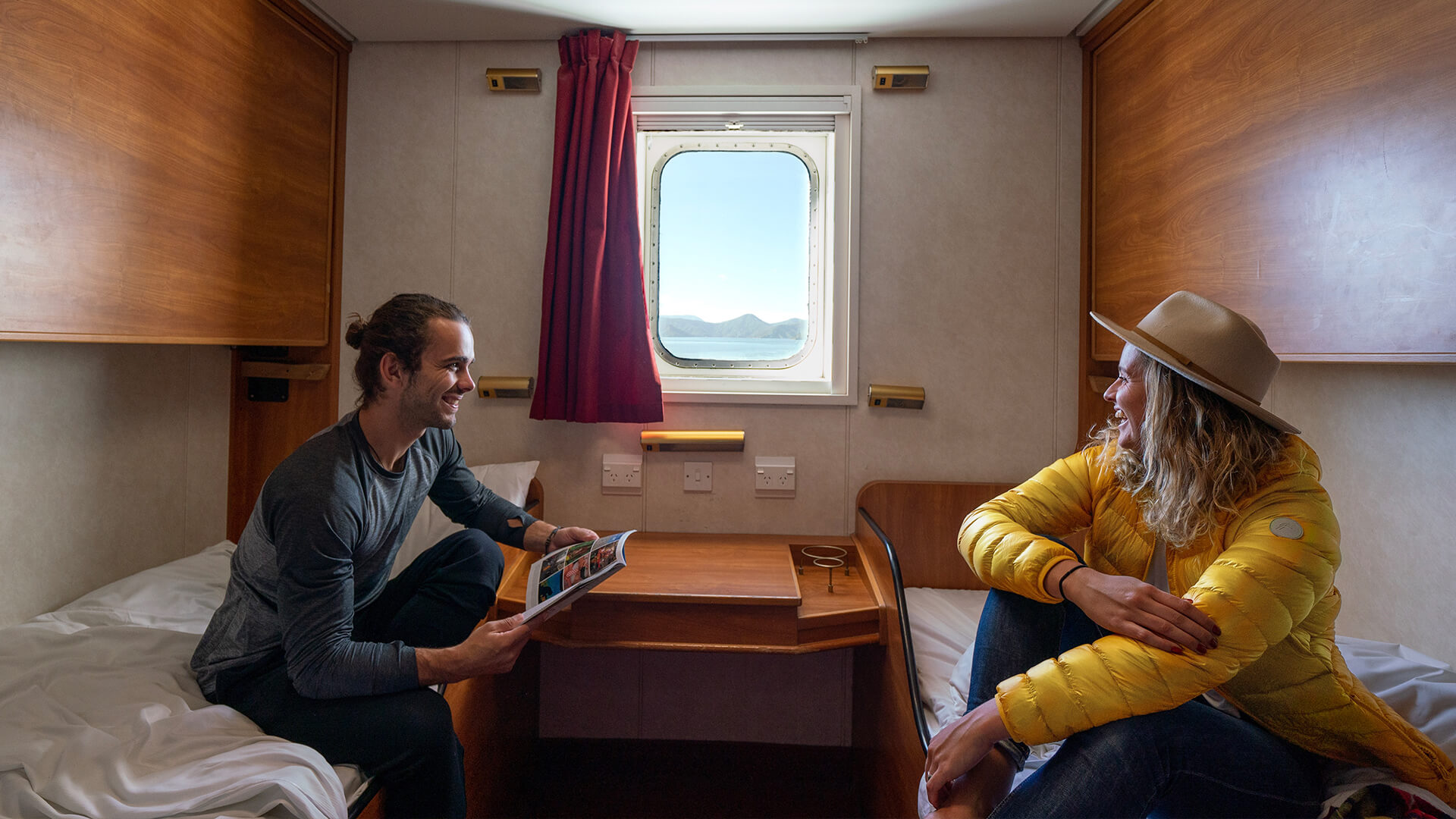 Upgrade to your own private cabin
For supreme comfort during your Cook Strait ferry crossing, upgrade to your own private cabin with ensuite to rest, store your belongings and have a hot shower. We have a wide range of cabins available including single, twin, double and family cabins from as little as $24 if you pre-book one by 31 July and use promo code HOTDEAL. Get in quick, there are a limited number of cabins available.
You can add a cabin to your online or phone booking. Or when you book at the terminal before you board. The offer only applies to pre-booked cabins.
How to Book a Cabin
Online: Click here for instructions
By Phone: Please call our team on 0800 844 844 between 8am-8pm or email bookings@bluebridge.co.nz