Discover 10 hidden gems down south
Set sail south for an adventure and discover these 10 hidden gems loved by our most experienced explorers, NZMCA members. The kids are back to school so it's a great time to explore your backyard and save with Bluebridge's better value fares every day. Your ticket includes free WiFi and movies plus you'll earn Airpoints Dollars™ every time you sail with us. You can even book now and pay later with Afterpay!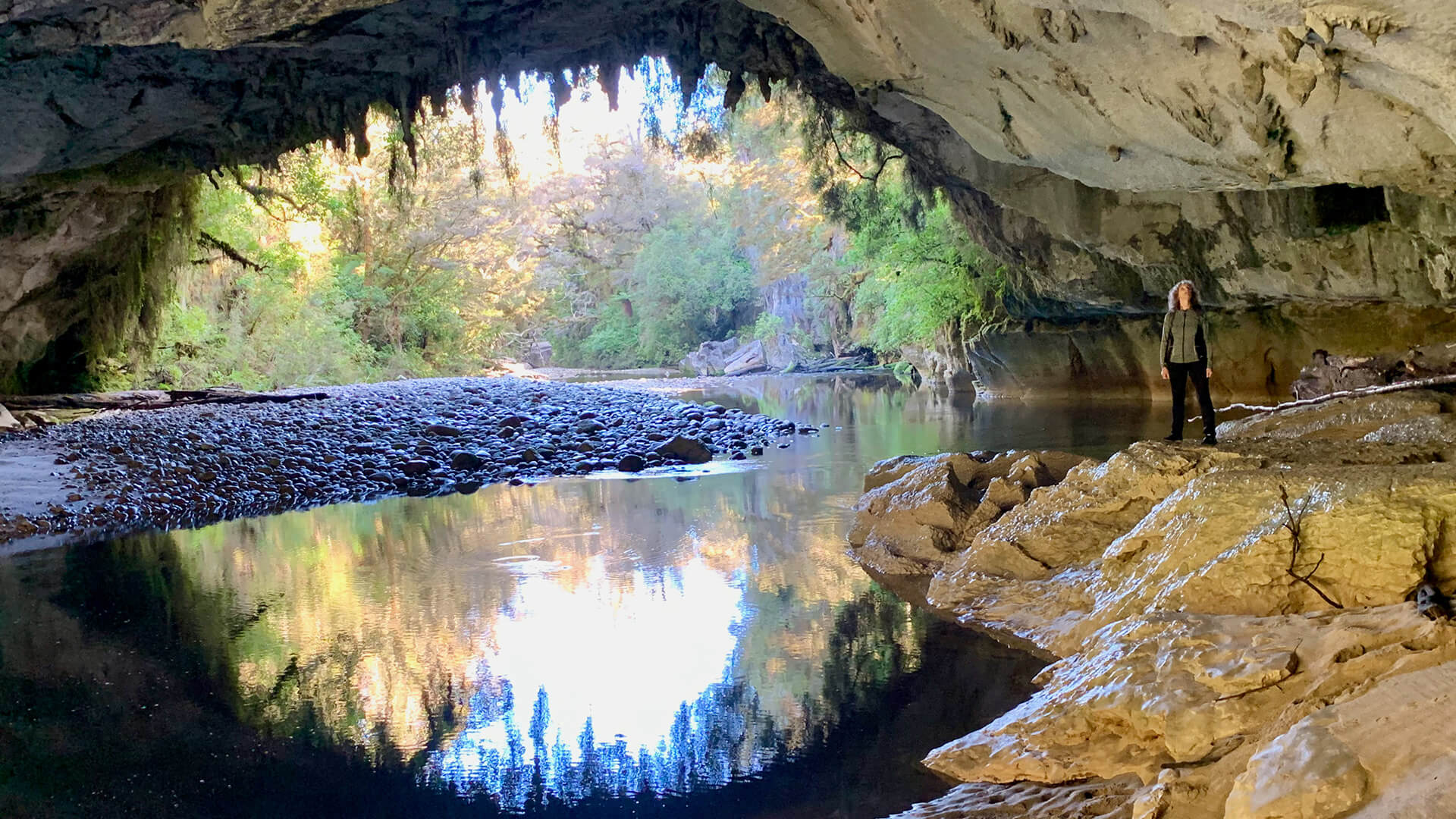 Reason #1 - Oparara Arches
Recommended by Geof Franks from Christchurch
"Oparara Arches are north of Karamea and 13km on a hilly single road to a DOC tramping area, but worth the difficult trip. Amazingly the approach to this magnificent arch isn't as the photo suggests, it's from above and down into a subterranean cave that opens into the middle of the arch. It's breathtaking"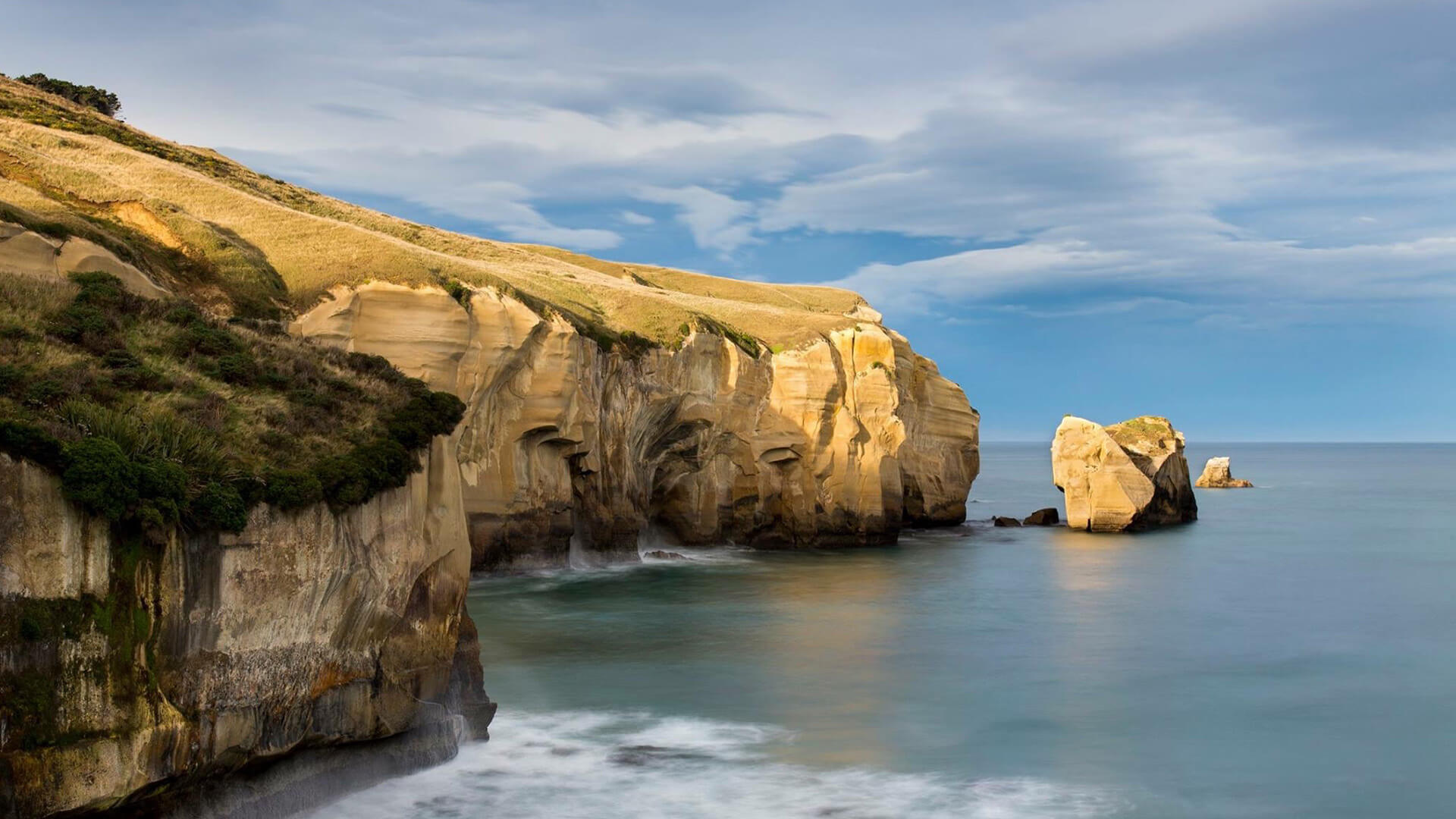 Reason #2 - Tunnel Beach, Dunedin
Recommended by Simone Jackson from Dunedin
"This is Tunnel Beach only 10 minutes drive from Dunedin city centre I kid you not!"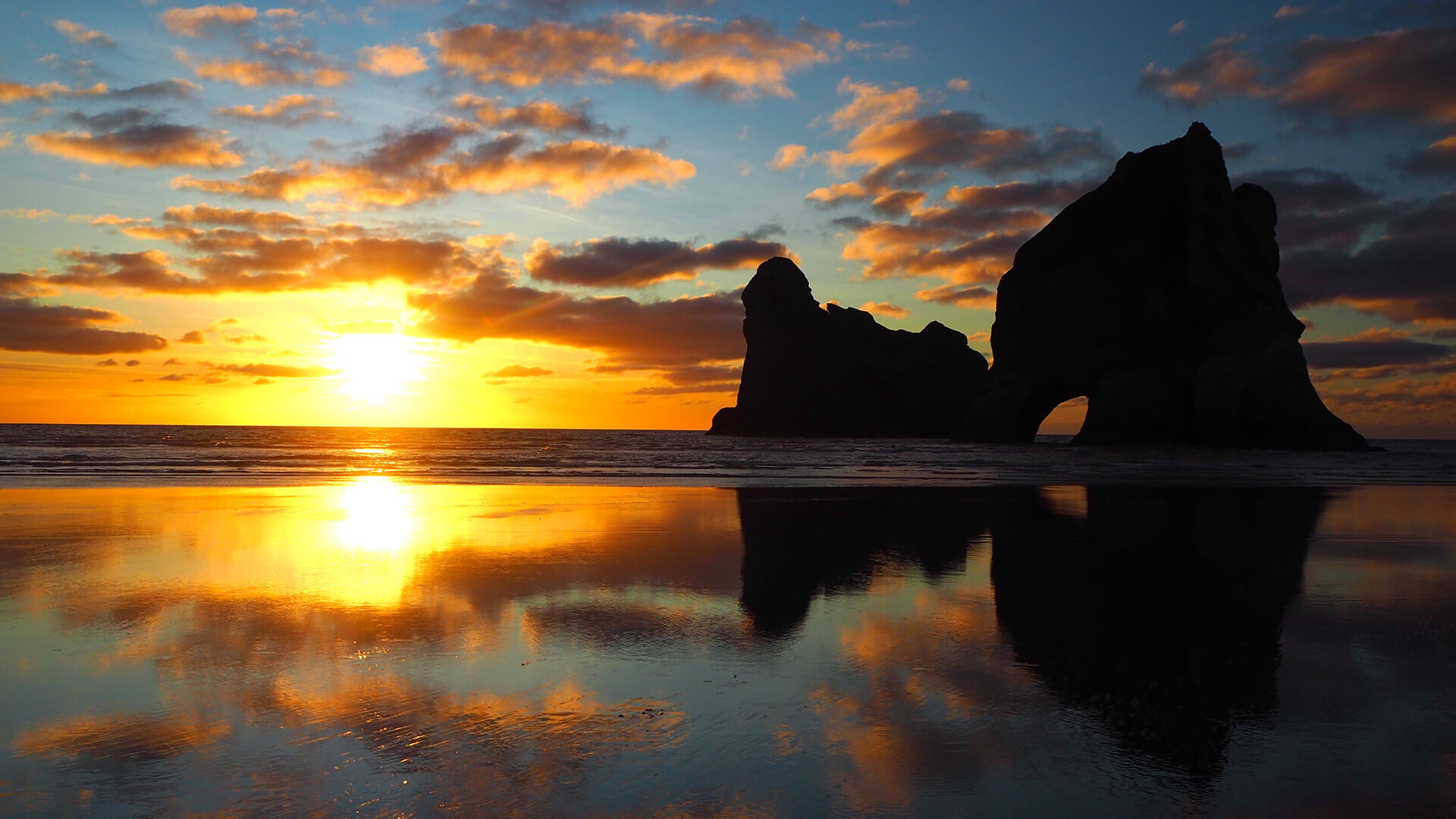 Reason #3 - Wharariki Beach, Golden Bay
Recommended by Heather Colling from Nelson
"Beautiful Wharariki Beach in Golden Bay is a beautiful windswept beach with the most dramatic sunsets."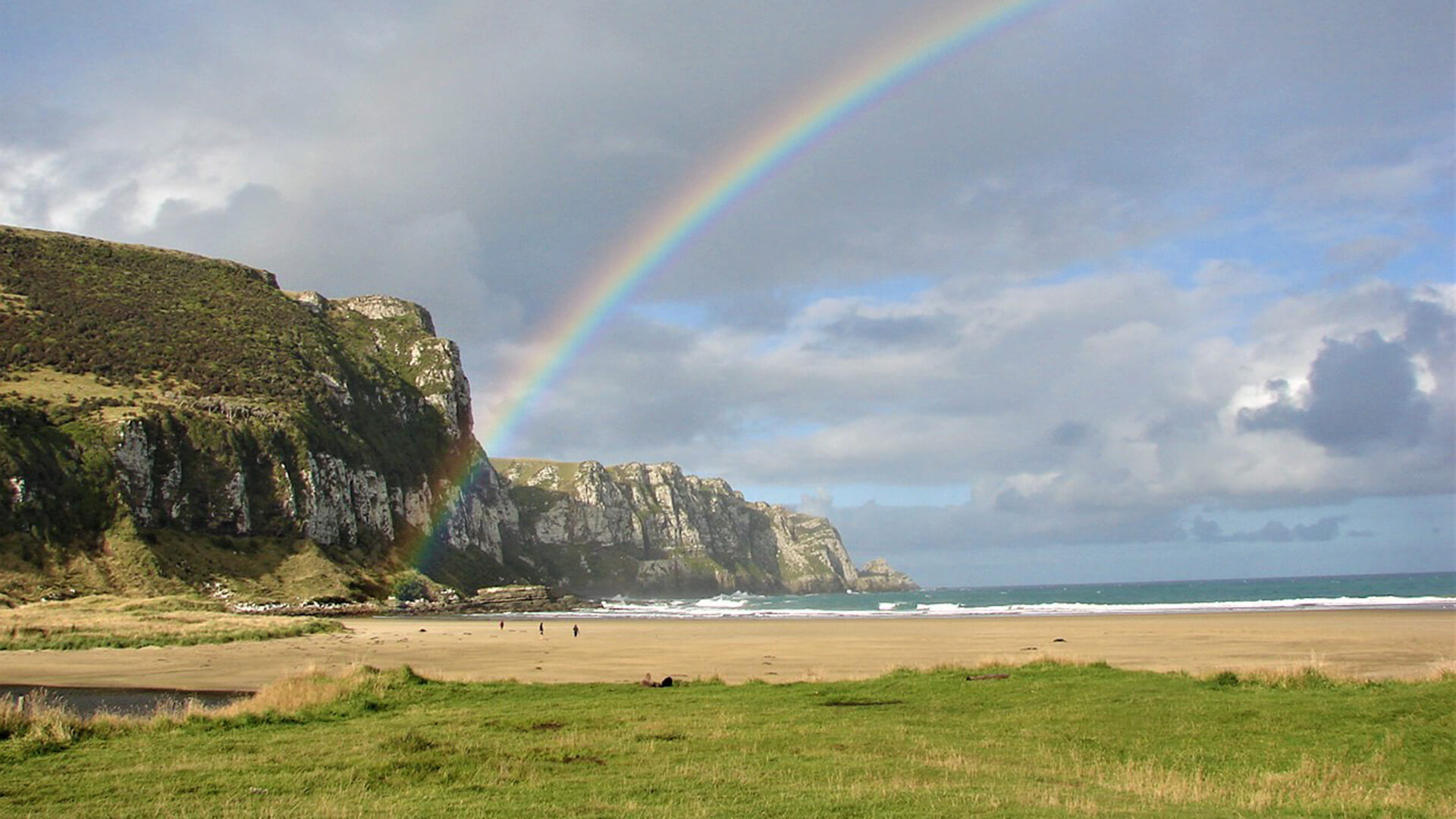 Reason #4 - Purakaunui Bay, Catlins
Recommended by Lorraine Te Amo from Waikato
"Purakaunui Bay in the Catlins. Freedom camping on a beautiful spot with salt encrusted cliffs."
Reason #5 - Mavora Lakes, Southland
Recommended by Linda Darnill from Southland
"When you travel NZ a lot......actually full time, it takes a lot to 'stop you in your tracks'!  A place so special that it nearly takes your breath away.  Mavora Lakes, in the heart of Southland, did just that.  Easily accessible yet a feeling of complete remoteness gave us the opportunity to stop, unplug from the world (no coverage) and reset.  Our view from our camping spot was ever-changing.  From the morning light kissing the mountain tops, the mid-day sun embracing the blue of the lakes to the setting sun in the evening bringing a surreal stillness.  We spent our time hiking, biking and sipping red wine beside our open fire while the sausages cooked on the grill.  No wonder families have been coming here for decades.  There have been many childhood memories made right here in this expansive DoC Camp beside the North and South Lakes".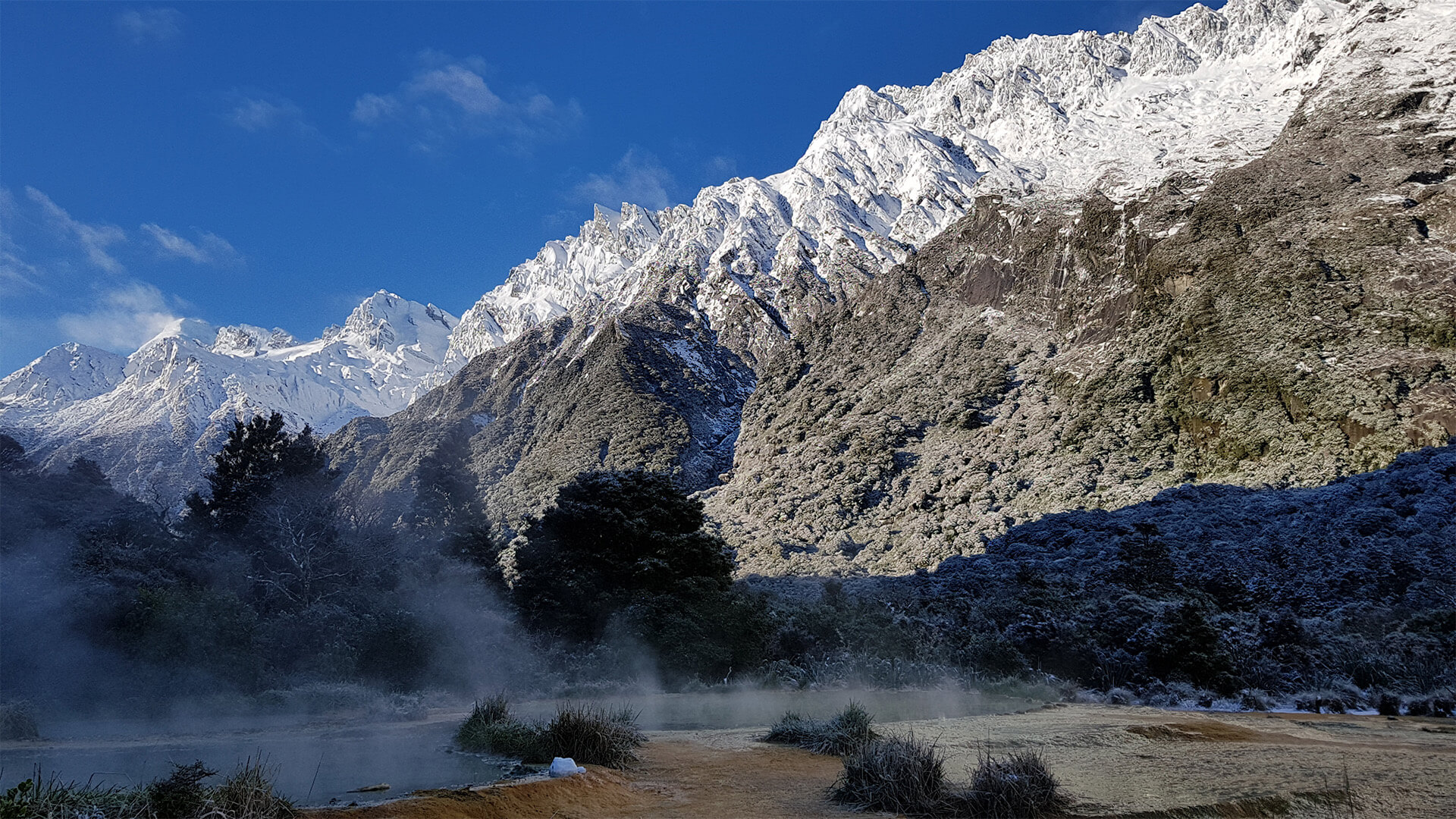 Reason #6 - Flat Hut, Copland Valley
Recommended by Paul Hewson from Nelson.
"Welcome Flat Hut and natural thermal pools in winter are an amazing reward for a 17.8km tramp that takes around 7 hours. Online bookings are essential for the 31 bed DoC hut, located in the Copland valley, 25km south of Fox Glacier."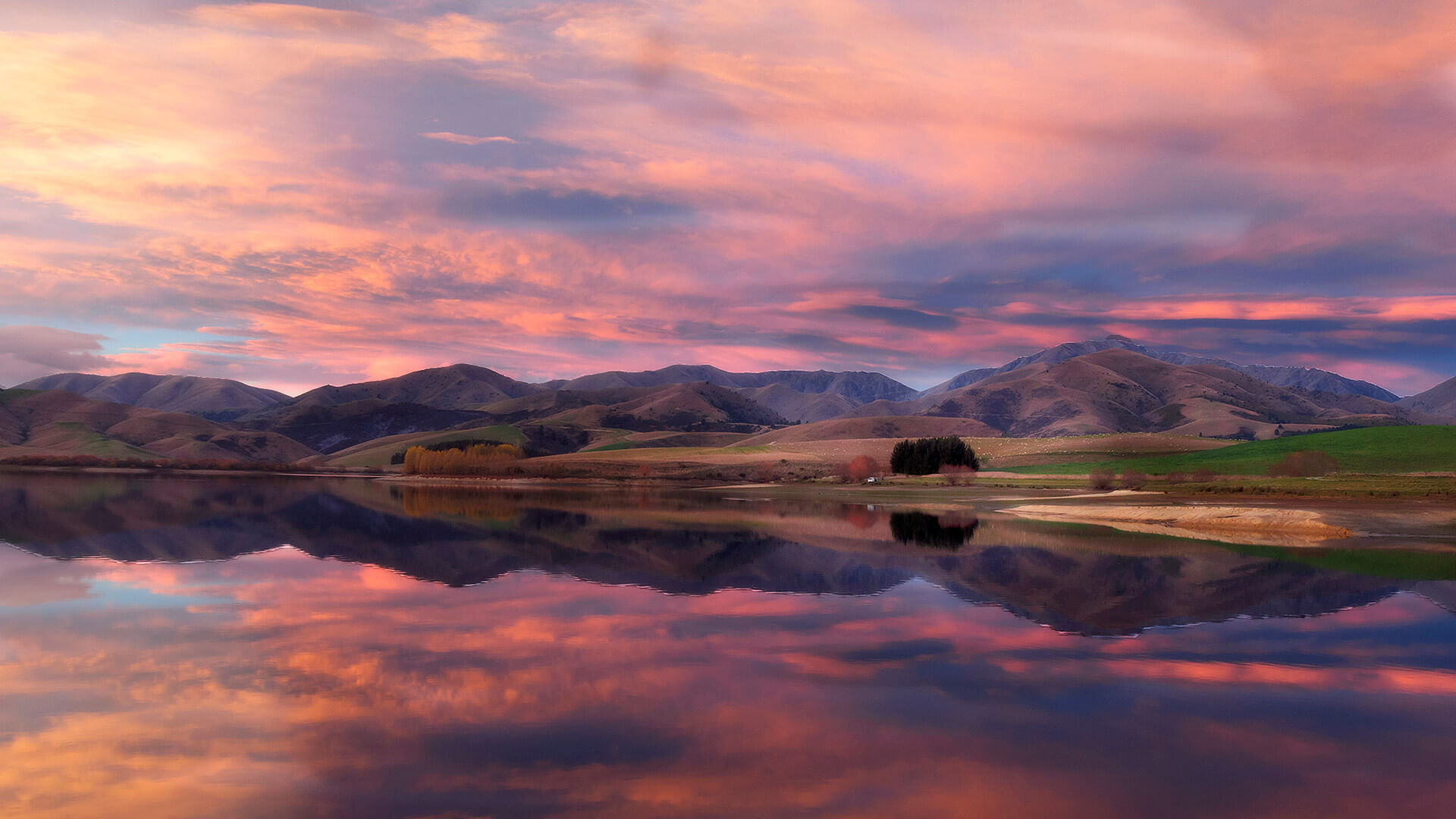 Reason #7 - Lake Opuha, Canterbury
Recommended by John Hayward from Pukekohe.
"This is Lake Opuha, a delightful spot tucked away a short distance from Fairlie in South Canterbury. It is fed by the North and South Opuha rivers and there is a dam at the southern end. The views are spectacular."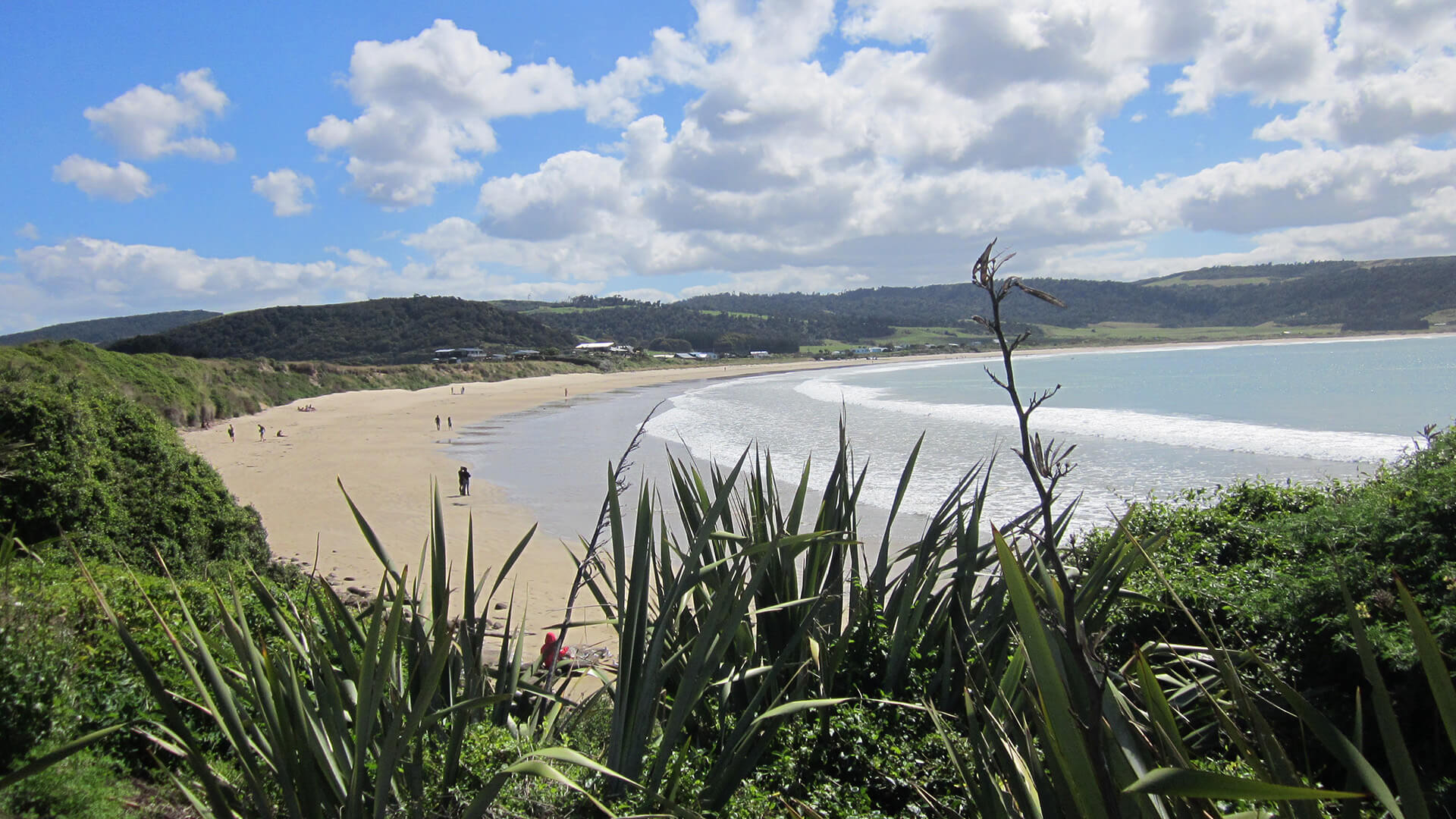 Reason #8 - Curio Bay, Catlins
Recommended by Pam Butler from Invercargill.
"The area called Curio Bay in the Catlins is a hidden gem and my special place to chill out and reconnect with nature. Camping is perfectly placed amongst flax bushes at the narrow neck of a headland with Curio Bay on one side and Porpoise Bay on the other. This bay is to me incorrectly named as it is actually the rare Hector Dolphins who call this home. What a great choice they have made!|Porpoise Bay is a sheltered sandy beach with a safe swimming area and where I love to body board with the dolphins. Being on the southern coast of New Zealand the water is either cool or cold so on a nice day after a swim in the sea a soak in the sun warmed rock pools is great. These rock pools are safe place for young children to have some fun. There is a surf school that hires wet suits and boards and lessons are available. Sea lions (Whakahao) numbers are increasing and it is not uncommon for them to visit this bay and sometimes also the camping ground. Amazing creatures to watch from a distance as I have seen how fast they can travel out of water. Seals frequent the area too and even whales have occasionally visited in this Bay. At low tide I enjoy clambering around the rocks from Porpoise Bay to Curio Bay around the headland. Curio Bay is world renowned  for its petrified forest that was formed millions of years ago during the Jurassic period. The area has a great lookout and information panels. This is an interesting area to explore the perfectly preserved wood grains, stumps and complete trees of the forest that once stood on this location. This petrified forest is believed to be the closest to a living forest in the world. In this living forest beside Curio Bay there is a flat loop bush walk suitable for every ability. Early evening is the time to go to one of the designated areas over looking Curio Bay to spot the yellow eyed penguins (Hoiho) returning from the sea to their nesting sites. Porpoise Bay is also home to penguins - Little blue penguins.  A great way to end the day is to sit on the Curio Bay natural rock bridge and watch the sunset. An area of no light pollution also makes for brilliant night sky viewing. Recently opened Curioscape has cleverly put together interactive displays that are worth spending the time and the entrance fee. Curioscape is also a cafe/restaurant with a selection of both cabinet food, meals and drinks. Curio Bay  - a place to love and enjoy."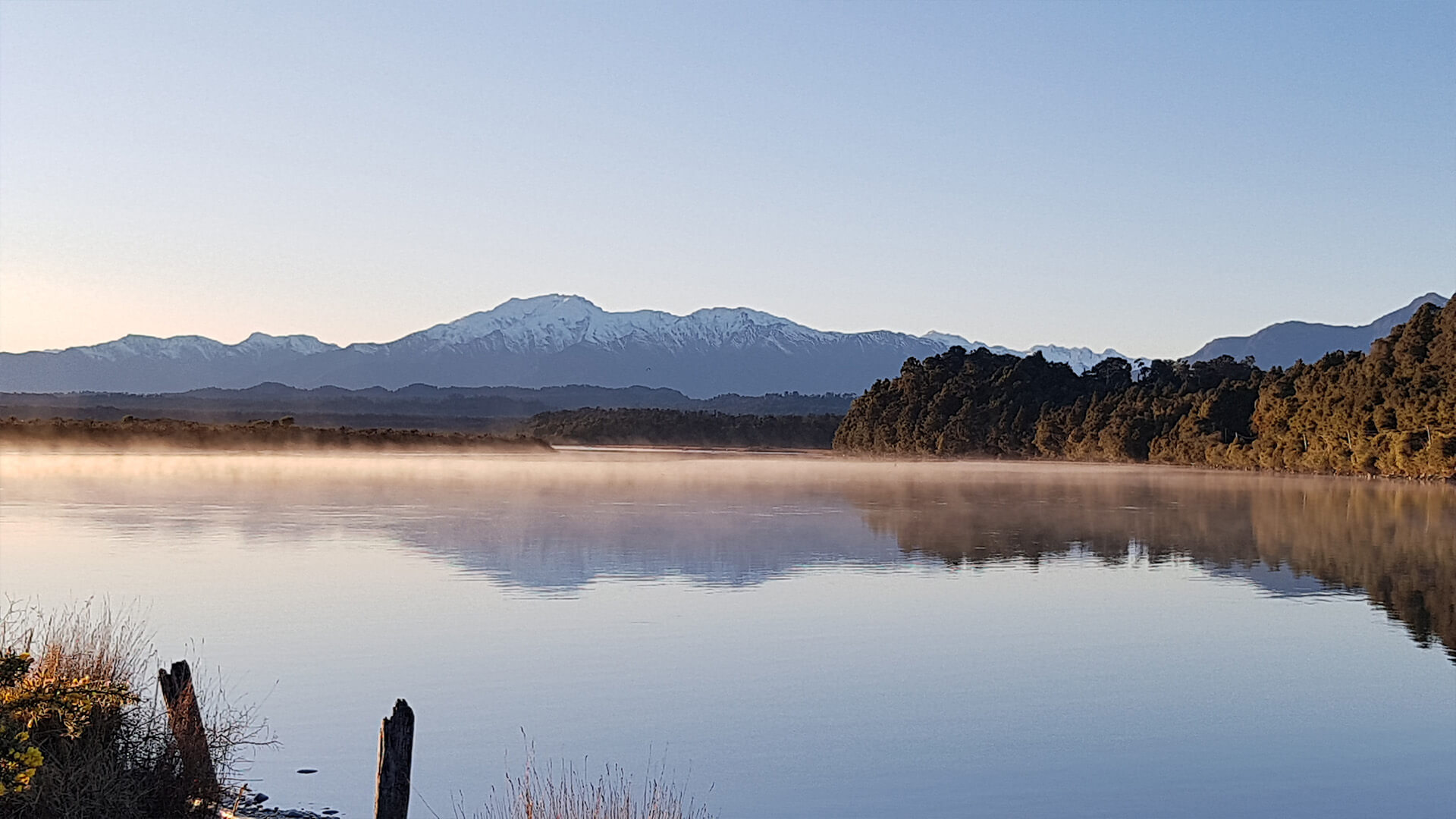 Reason #9 - Okarito, West Coast
Recommended by Paul Hewson from Nelson
"Okarito is an amazing place on the beach on the West Coast. There is a great campground and one of the few places where you can light a fire on the beach and watch the sunset. You can often view Kotoku feeding in the lagoon. A short walk to the Trig gives incredible views of the coastline and the South Alps, Mt Aoraki/Cook and the Franz Josef Glacier."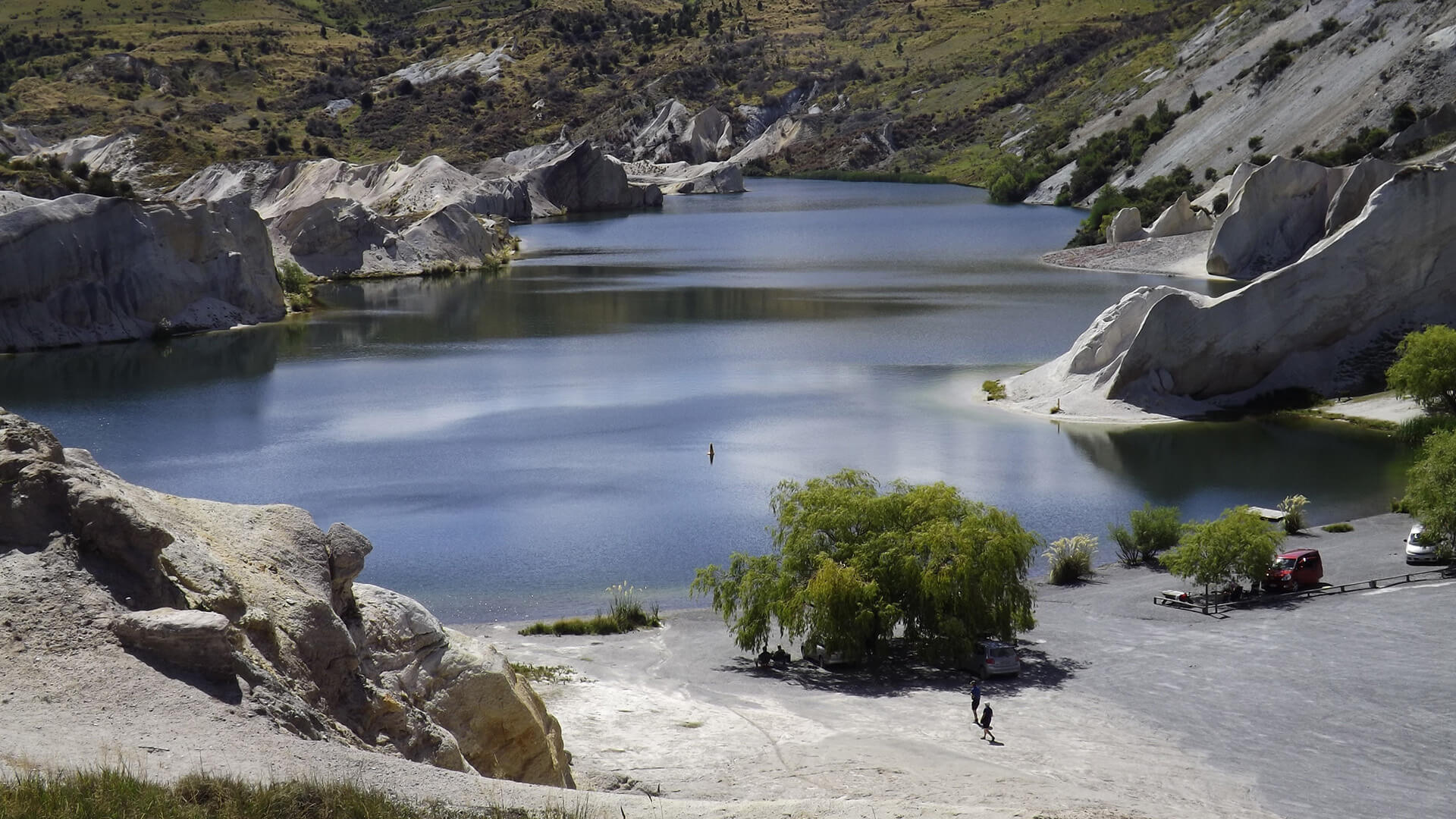 Reason #10 - St Bathans
Recommended by Ron & Jackie Gorton, from Kerikeri.
"Last time we travelled Bluebridge to the South Island we endeavoured to take the roads less travelled and discovered the old ghost town of St Bathans. The Hotel is haunted by a resident who died over 100 years ago and many of the 10 remaining inhabitants of the town are reported as having seen her. One visitor even accidentally captured her on camera. The scenery is stunning as the hotel overlooks a picturesque Blue Lake that the old gold miners had sluiced into a 69 metre deep hole that is now filled with water. At the time it was the deepest mining hole in the Southern Hemisphere.|We will travel Bluebridge again this summer and we intend spending more time in this area, who knows we may even see the ghost."