What's on-board
With free onboard WiFi and movies, private cabins, a fresh-as local menu, great Kiwi service and the only ferry offering Airpoints Dollars, there's a reason we've been keeping shiploads of people happy since 1992. Yeah Buoy!
Private Cabins
Food & Drink
Kids
Free Wifi & Movies
How to book
Your private cabin is the perfect place to unwind after a busy day sightseeing and our unobtrusive hospitality crew will ensure that you enjoy a high degree of comfort and service. You can pre-book your private cabin on the Straitsman and Strait Feronia online. Just follow these simple steps:
Look for the blue bed/cabin symbol on the availability screen (step 1 of the booking process)
Select a sailing with cabins available
Where it asks "Do you wish to book cabin accommodation during your crossing?" select yes
Choose the cabin type/s you would like to add to your booking by selecting the drop down boxes out to the side of each to adjust quantities
Click the green 'Continue' button to proceed to step 2 of the booking process
Please note: Extra cabins may be available for purchase on-board. If you are unable to book a cabin prior to your departure please ask our friendly crew to double check availability once you are on-board.
We have a range of cabin sizes available from single to five berth family options. All cabin sizes are available on Saver-Sail, Super-Sail and Flexi-Sail fares when you prebook to match your sailing fare type and conditions. You can prebook a cabin online or by phone when you make your booking, or add a cabin to an existing booking by calling our team on 0800 844 844. If you haven't prebooked but would still like a cabin you can ask our on-board team if there are any available, however these will be charged at the Flexi-Sail price. 
Both our ships offer a range of private cabins
All cabins have air-conditioning, a power point, a desk with chair, wall-mounted reading lights, hanging space with coat hangers, a telephone with wake-up call instructions and a wall mirror. Complimentary fresh linen, towels and body wash are also included.
All cabins have air-conditioning, a power point, a desk with chair, wall-mounted reading lights, hanging space with coat hangers, a telephone with wake-up call instructions and a wall mirror. Complimentary fresh linen, towels and body wash are also included.
The Wellington - Picton Sleeper Service
If you're a fan of efficiency, and heading south from Wellington, we offer a sleeper service: you sleep while we sail! Saves on accommodation in Wellington and perfect if you have a long drive ahead of you once you arrive in Picton. You'll check into your cabin early (ahead of the early morning sailing),and can grab a snack from our supper menu, then relax in your cabin and awake refreshed as you arrive in Picton at 6am. You can even pre-order from our express breakfast selection and enjoy that "to-go" espresso as you depart.
Hot tip, some families swear by this as a hassle-free way to cross the Strait with sleeping kids ahead of a big road trip.
And if you're really keen we recommend you set a wake-up call (see instructions in your room) so you can watch the sunrise as you cruise through the breath-taking Queen Charlotte Sounds.
The only additional cost to this service is the hiring of your private cabin. Here's some other important information about this service:
Important information about this service:
The cut-off reporting time at our terminal to be allowed early boarding is 11.15pm
Boarding will take place shortly after (between 11.45pm-12.15am).
Please note this time is approximate and can differ depending on operational requirements and on time performance.
Operation of this service is reduced during scheduled maintenance periods throughout the year i.e. dry-docks and layovers.
Departure time from Wellington: 2.30am
Arrival time in Picton: 6.00am
Please search availability online for your required travel dates or contact us for assistance.
Luggage
We ask that you only take one small overnight bag up to your cabin.
All large pieces of luggage must be checked in at the terminal when you check-in.

For more information on checked in luggage click here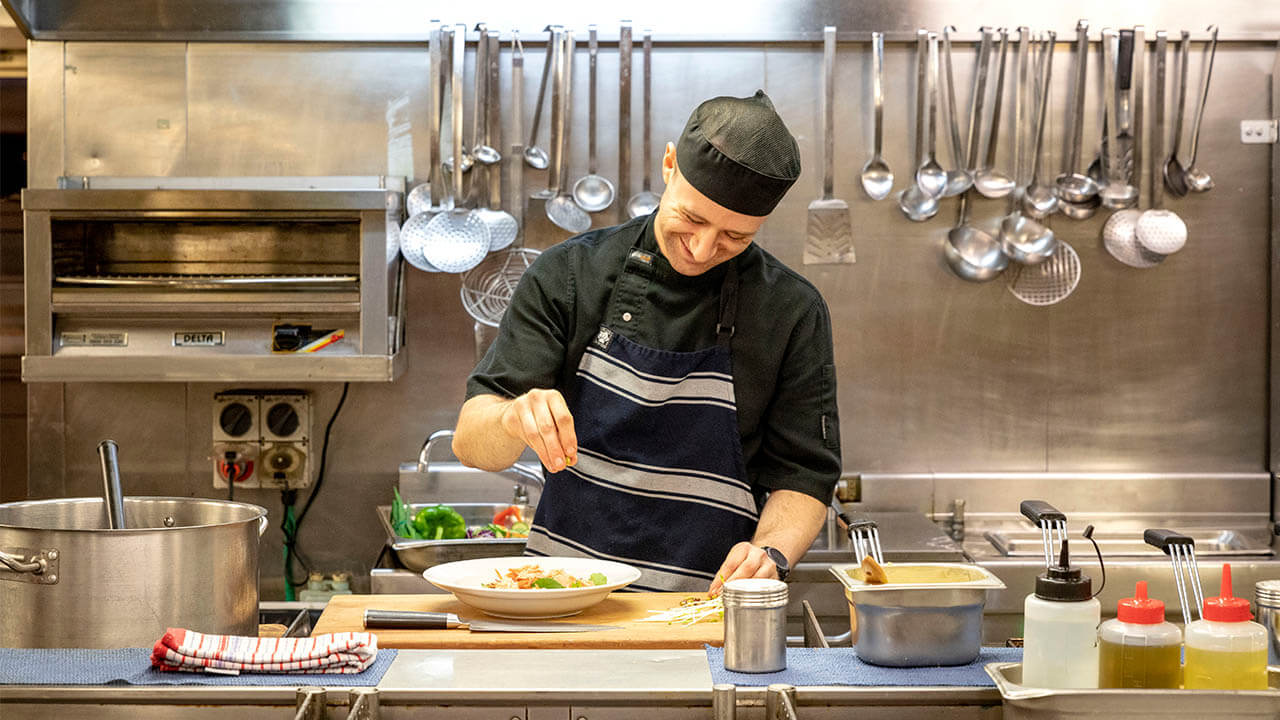 Real New Zealand Flavour
Bluebridge is the best way for foodies and wine lovers to cross Cook Strait. You'll be spoilt for choice with great coffee, freshly baked breads, tempting cakes and a range of kiwi-inspired fare prepared with love by our chefs on board. So regardless of whether your Cook Strait sailing is at breakfast, lunch or dinner we've got the menu sorted!
Sweet treats, local breads and fresh coffee
For those with a sweet tooth we have freshly baked muffins, cakes and pastries, and kids are well catered for with special children's meals, Carrello gelato and delicious free of nasties Paleta iceblocks. We source authentic artisan breads from local bakers Pandoro so you can choose from a selection of freshly baked ciabatta, focaccia and paninis during your sailing. All of our fresh fruit and produce is sourced locally. Our lamb comes from Nelson, our beef from Canterbury and Salmon is supplied from the Marlborough Sounds. Well renowned Wellington coffee roaster - L'affare even deliver their beans fresh to our ships each day.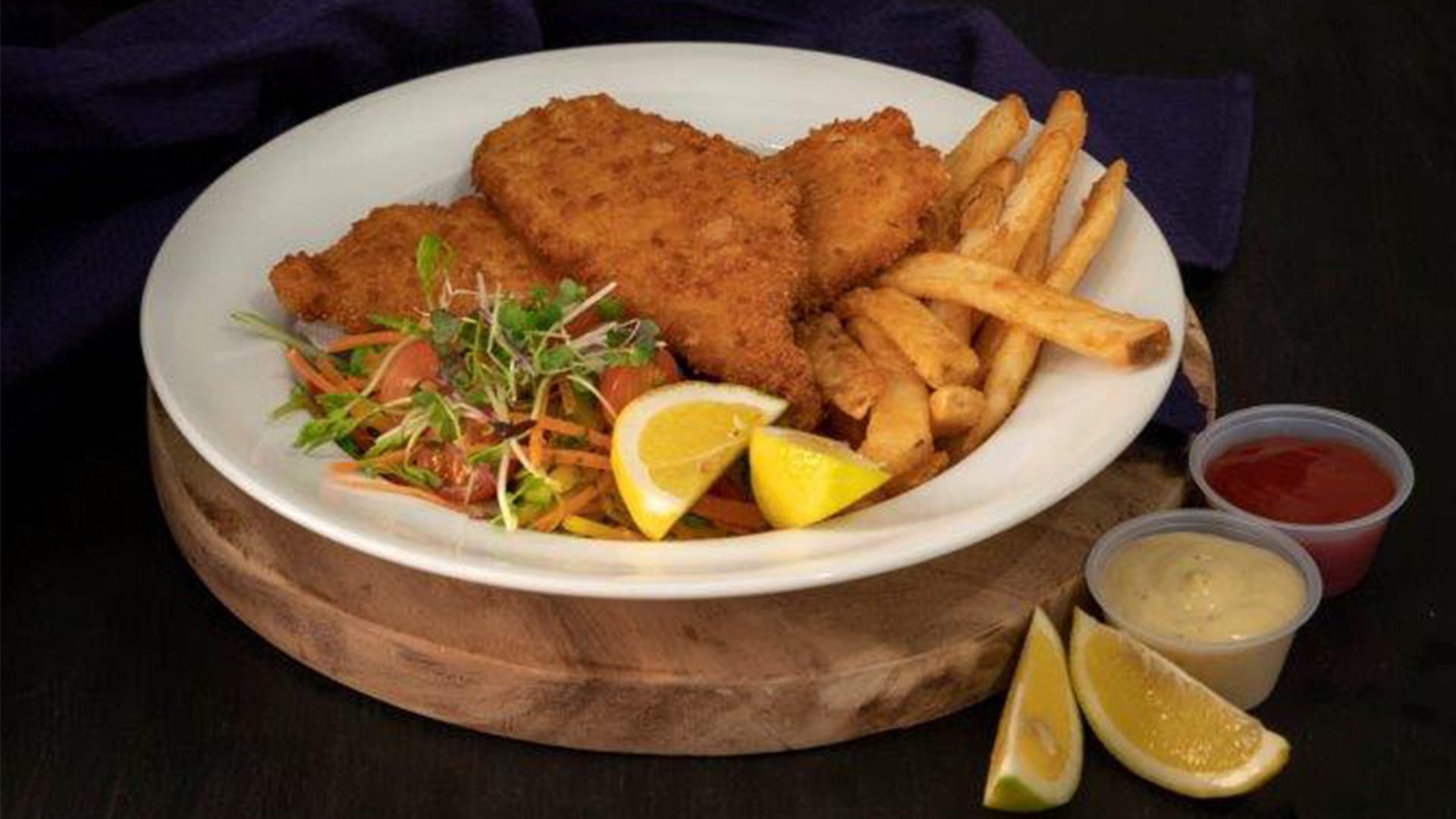 Truly good value tucker
We pride ourselves on keeping our food prices at a level that is affordable to the average kiwi family without sacrificing quality or portion size (think hungry truck driver)! So it's highly likely that you will leave our ferry with a big smile on your face AND money left in your wallet to spend on the rest of your trip!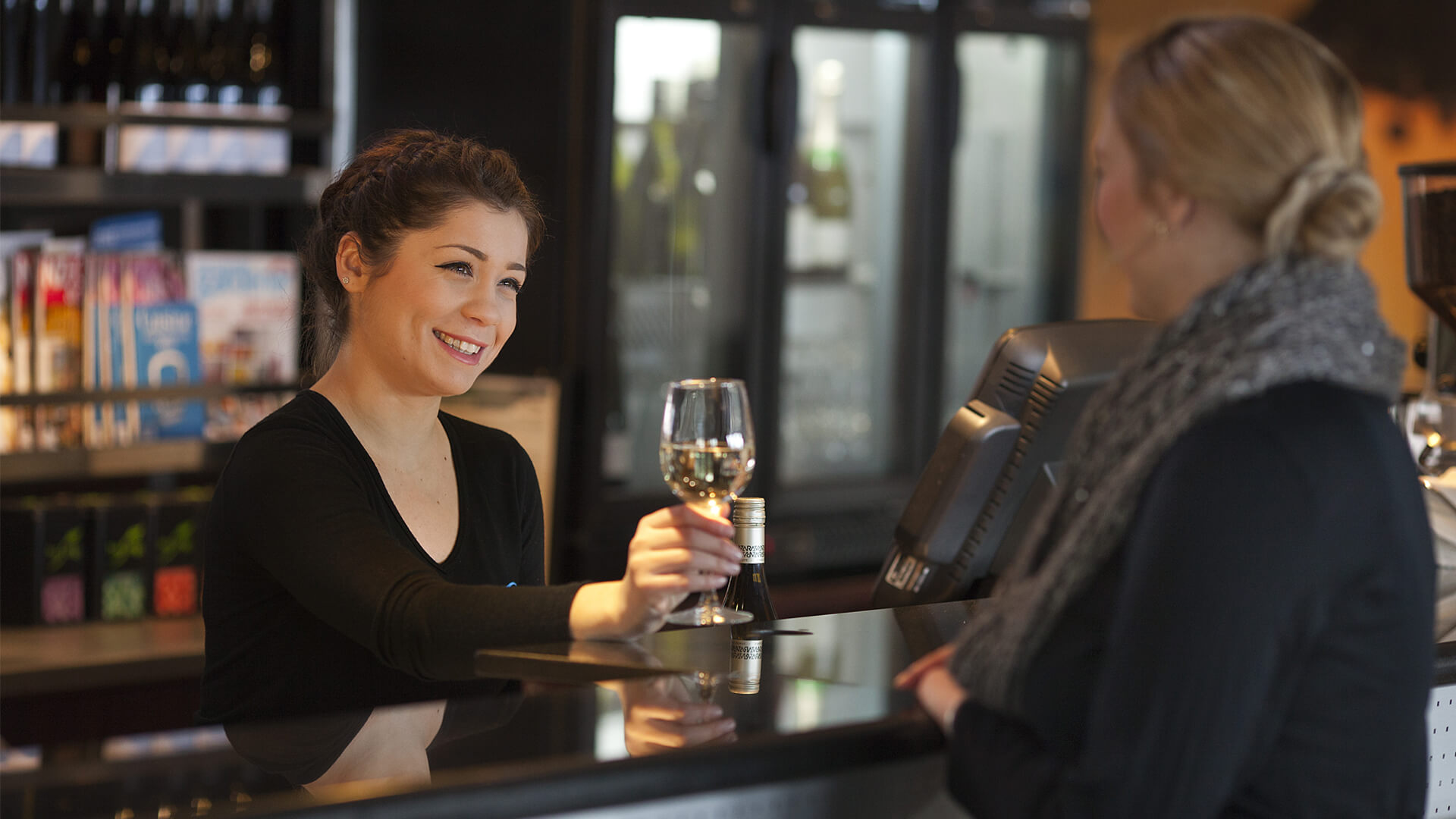 Marlborough's finest drop
We are proud to serve the award-winning Ara Single Estate family of wines. Their beautifully lush Pinot Gris in particular is in such limited supply that you can only find it in Australia and New Zealand.
Crafted from grapes grown in the Waihopai Valley at the westernmost end of Marlborough's Wairau Valley, Ara draws on time-honoured wine making methods to create a strikingly different wine experience.
This all combines to offer a point of distinctiveness which refines the quality of Marlborough Sauvignon Blanc and Pinot Noir varieties resulting in wines of elegance and texture.
If wine isn't your thing, we also offer a range of beers, cold drinks and juices.
Quality caffeine fix
Our L'affare-trained baristas can make you a superb espresso coffee from beans roasted by Wellington's iconic and revered coffee roastery.
We love L'affare's no compromise approach to coffee quality and the fact that they source the finest green beans, use the latest roasting technology and create the finest blends.
Breakfast 5.30am - 10.30am
Cereal (v)
Weetbix or muesli with milk $4.20

Toast & Spreads (v)
Two slices of toast with butter & two spreads $6.00

Continental Breakfast (v)
Weetbix or muesli, yoghurt, fruit, two slices of toast & two spreads $12.20

Breakfast Panini
Toasted panini filled with fried egg, bacon & a hash brown
finished off with a delicious BBQ sauce Sml $12.85
Lge $14.85

Mince on Toast
Savoury mince served on a thick slice of sour dough with tomato, fried egg & garnished with fresh dill $14.80

Eggs on Toast (v)
Scrambled, poached or fried eggs served on toasted ciabatta. Add bacon for an extra $2.00 $10.20

Eggs Benedict
Poached eggs served on English muffins with hollandaise sauce
With bacon
With salmon
$15.95
$17.95

Eggs Florentine
Poached eggs served on English muffin with fresh spinach
& hollandaise sauce $12.20

Big Kiwi Breakfast
Scrambled, poached or fried eggs served with tomato, baked beans, sausage, bacon & hash browns on toasted ciabatta $19.20
Snacks 9.00am - 5.30am
Nachos (v)
Corn tortilla chips served with beans, avocado, red onion,
sour cream, tomato salsa & cheese Single $9.80
To share for two $15.80

Salt 'n' Pepper Squid
Squid basket served with a salad garnish, Thai sweet chilli sauce & aioli $13.80
Polenta Chips (v) (gf)
Polenta chips served with chutney $9.80

Basket of Wedges (v)
Potato wedges served with Thai sweet chilli sauce & sour cream $9.80

Basket of Hot Chips (v)
Hot chips served with tomato sauce & aioli $7.80

Vegetable Frittata (v) (gf)
Baked slice with egg, kumara, carrot, onion, herbs, potato & tomato, served with chutney $12.80
Panini
Toasted Ham panini filled with ham, cheese, tomato & mayonnaise, or
Toasted Chicken panini filled with chicken, brie & cranberry sauce $9.25

Toasties
Your choice of the following fillings:
1. Ham & swiss cheese
2. Cheddar cheese & Tomato (v)
3. Cheddar cheese & onion (v) $8.20
Lunch and Dinner 10.30am - 9.30pm
Seafood Chowder Small Large
A hearty 'fisherman's stew' squid, mussels, $14.25 $18.25 octopus, shrimp served with sourdough garlic bread

Fish and Chips Small Large
Crumbed Dory & beer battered chips served with $14.50 $18.50
a fresh salad, tomato sauce & tartare

Warm Greek Lamb Salad with Tzatziki Small Large
Marinated lamb, leafy greens, tomato, cucumber, $14.25 $18.25
red onion, kalamata olives & feta

Teriyaki Chicken Noodles Small Large
Marinated chicken dressed with noodles, $13.25 $17.25
sesame seed & green onion

Caesar Salad Small Large
Romaine greens, croutons, anchovies, $13.80 $16.80
parmesan cheese, bacon & soft boiled egg
Add chicken tenders $3.00

Soup of the day Served with a bread roll $10.00

Chef's Special See our counter display for the dish of the day $17.00
Steak Sandwich
Scotch ribeye steak on a toasted bap with mayo $14.50
red onion, tomato, cheese & onion marmalade
Add basket of beer battered chips $4.00

Strait Burgers
All burgers include lettuce, red onion & tomato $14.00
with a salad garnish
Choose your favourite:
Beef with mayo & BBQ sauce
Lamb with mint jelly & mayo
Vegetable with hummus & sundried tomato & olive chutney
Halloumi with mayo & tomato relish
Crumbed Dory with tartare sauce
Chicken served with sweet Thai chilli sauce & mayo
Add bacon $2.00
Add cheese $2.00
Add basket of beer battered chips $4.00

Kid's Meals
Southern style chicken strips $9.90
Fish pieces $9.90
Ham or cheese sandwich, fruit, yoghurt & juice $9.90
Pizza – ham & cheese or cheese & tomato $9.90
Beer, Cider & RTD's
Beer, cider & RTD's
Moa Apple Cider

 


Made from 100% New Zealand grown apples and fermented with French Oak

$10

Coruba Rum & Cola

 


This is a dark, flavoured rum with hints of spices and caramel

$9.50

Gordons Gin & Tonic

 


Gordon's gin, mixed with crisp sparkling Schweppes Indian Tonic Water

$9.50

Jim Beam & Coke

 


Jim Beam White Label

$9.50

Tui

 


A sweet fruity aroma with a hint of malt, toffee & caramel

$8.00

Speights

 


Full flavour of malt and hops

$8.00

Corona

 


The unmistakable colour, the one-of-a-kind taste and the unparalleled Mexican flavour

$10.00

Heineken Light

 

$8.00

Moa Southern Alps

 


The perfect marriage between a traditional Belgian wheat beer and a modern aromatic IPA.

$10.00

Parrot Dog Bitterbitch

 

$10.00

Steinlager Classic

 

$8.00

Smirnoff Ice

 

$9.50

Emmersons Bookbinder Amber Ale

 

$10.00

Tuatara Amarillo Dark Ale

 

$10.00

Heineken

 

$10.00
Wine List
Allan Scott Chardonnay

 


The palate is nicely complex with ripe peachy flavours, nuts and melon

$11.00 glass / $40.00 bottle

Allan Scott Riesling

 


Floral and lemon aromas with subtle underlying tropical notes.

$11.00 glass / $40.00 bottle

Ara Pinot Gris

 


Delicate aromas of pear and nectarine which flow through to honey citrus notes

$11.00 glass / $40.00 bottle

Alan Scott Merlot

 


Berry fruit, coffee, and vanilla bean flavours

$11.00 glass / $40.00 bottle

Ara Pinot Noir

 


Dark raspberry and boysenberry fruit flavours emerge from a soft and savoury wine

$11.00 glass / $40.00 bottle

Brancott Estate

 

$10.00 / bottle

Ara Rose

 

$40 / Bottle

Ara Sav Blanc

 

$11.00 glass / $40.00 bottle
Tea & Coffee
Coffee

 


Latte, Flat white, Long Black, Espresso, Cappuccino, Mochaccino, Chai Latte. Full, Trim or Soy milk available.

From $4.00

Tea

 


English Breakfast, Peppermint, Lemon Grass and Ginger, Malabar Chai, Lavender Grey, Honey Dew Green, Fruit's of Eden, Cleopatra's Champagne

$3.50

Hot Chocolate

 

$4.50
Cold drinks
Just Juice

 


Tropical

$5.00

NZ Natural Water Sparking/Still

 

$3.80

Soft drinks on Tap

 


Pepsi, Pepsi Max, 7UP, Mountain Dew or Mountain Dew Livewire

From $4.00

Bottle Range

 


Franks Ginger Beer, Franks Key Lime and Lemon Bitters, Franks Zesty Lemonade, Franks Sparkling Blood Orange, Oh! Berry, Oh! Orange & Mango, Ovi Citrus, Ovi Peach or V Green

$4.50

V Pure

 

$6.00

Up and Go

 


Chocolate or Vanilla

$4.00

Orange Juice

 

$4.50

Smoothies

 


Very Berry, Peach and Apricot Paradise, Feijoa Frenzy, Spirulina Slam

$4.50

Kombucha

 


Raspberry Lime, Ginger Lemon, Original
Special dietary requirements
We can cater for many customers with individual requirements such as religious, ethnic or dietary needs. Please advise the cafe staff of your requirements. 


Gluten Free dishes and products
It's important to note that we also offer other gluten-free items on a daily basis. You can find our gluten free menu items in our food menu above with the 'GF' symbol listed next to the menu item. If you still experience difficulty with our current menu – simply talk to a member of our friendly crew about your requirements. Our chefs can create something special for you. 
**Please note that our gluten-free fried items are prepared using the same cooking equipment as a number of non-gluten free products.


Food allergies
For your peace of mind and assistance, we carry an up-to-date food allergy manual behind each service counter on board our ships. This manual details every food item we sell and/or make on board with all ingredients listed clearly for our staff. If one of our customers is nut intolerant or allergic for example, the pesto in a scone may have traces of pinenut and this can be checked on the ingredients listed in the manual. Again if you're unsure or struggling to find something suitable on our current menu selection, please talk to a member of our friendly crew as our Chefs are only too happy to assist you.


Food hygiene and safety
The Wellington City Council's Environmental Health Officers annually inspect all premises that prepare, package and store food for sale. We are delighted to announce that Bluebridge Cook Strait Ferry has been awarded the an excellent food hygiene grading for all of our food service outlets. Our grade is based on the Council's 4-category risk rating. The categories are: conduct and practices, structure of the premises, cleaning and sanitising and staff training.


Halal certification
Each of our current suppliers of beef, lamb and chicken holds a Halal Certificate issued by The Federation of Islamic Associations of New Zealand Inc. (FIANZ), our national Muslim organisation.  The Federation's Halal Committee (comprising the Religious Advisory Board, Meat Scientists, Food Technologists and the Secretariat) ensure that meat plants of New Zealand, operating under the supervision of the Federation, always maintain a high degree of Halal integrity. Halal Accreditation Certificates (for the premises) are issued to such meat plants by the Federation only after a thorough and rigorous Halal auditing process which includes a regime of ongoing supervision and inspection.  You can learn more about the issuing of Halal Certificates to meat plants on the FIANZ website.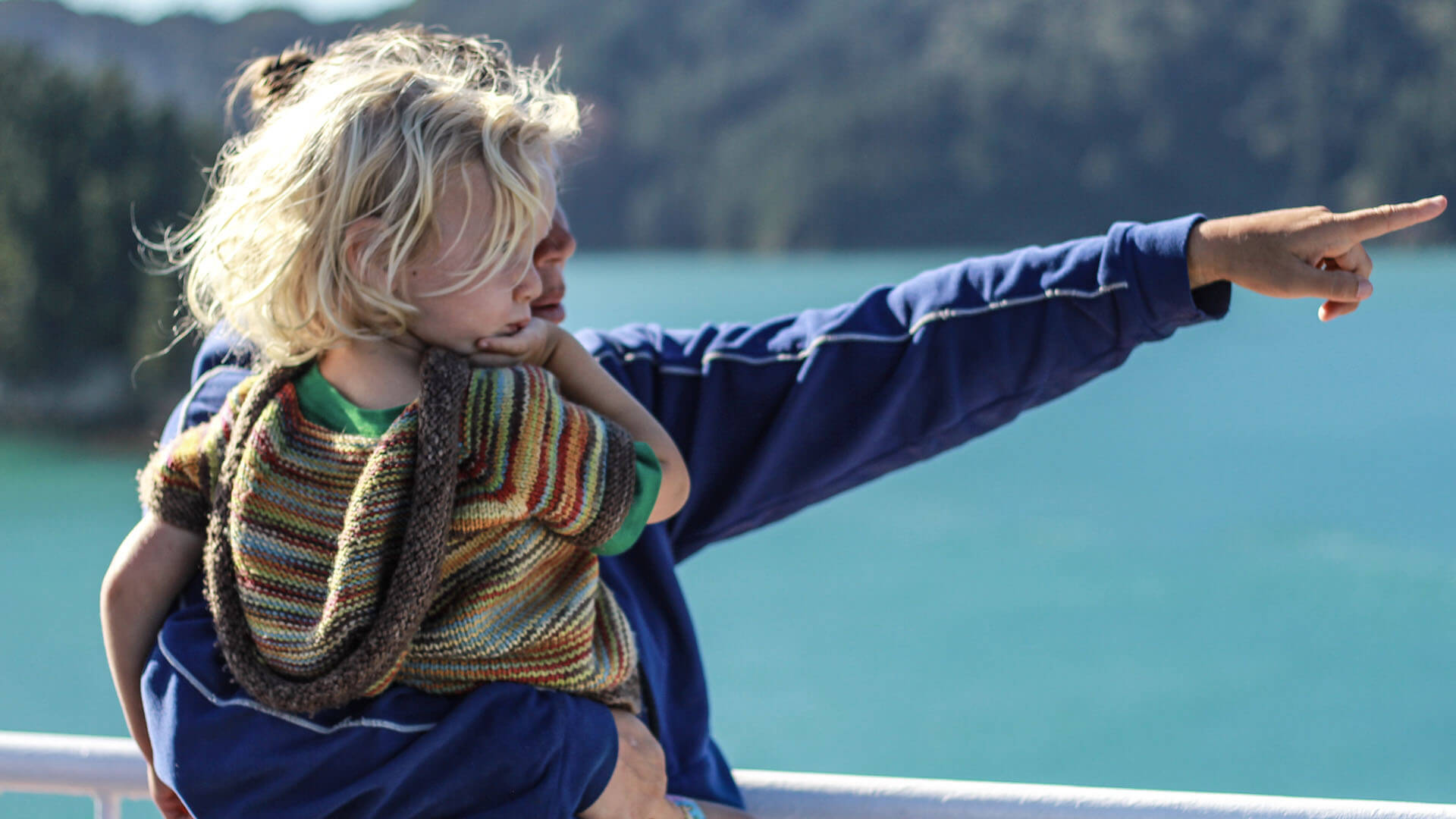 Kids on Bluebridge
Going on the ferry is an exciting experience for the whole family, and with Bluebridge your family is well looked after. There are family change areas centrally located on both ships, free movies, activities for the kids, hearty and healthy food options, play areas, ample lounges and safe outdoor areas.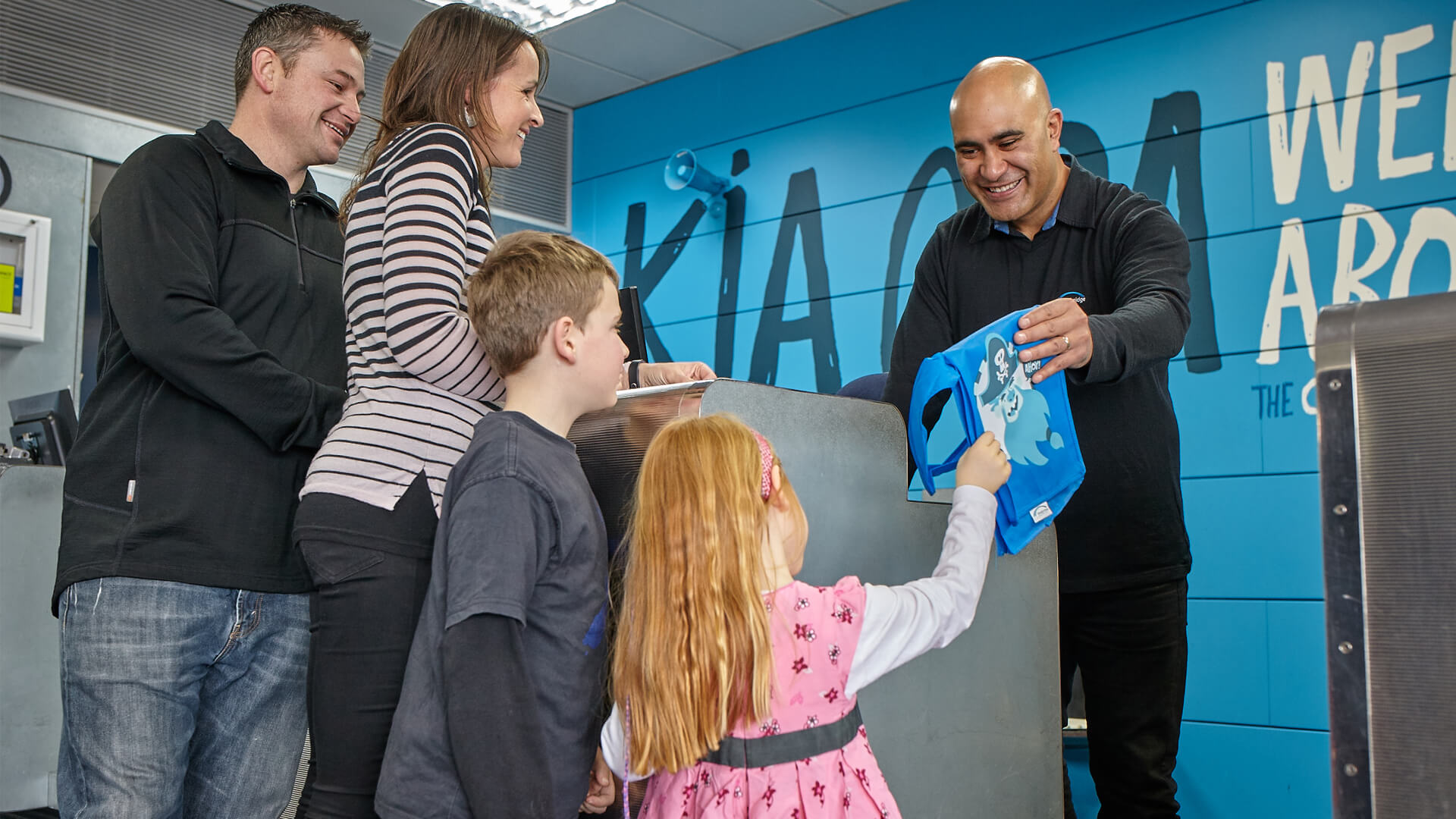 Free Activities
Each child receives a free activity pack when they travel with us. These awesome little packs include a 16 page activity booklet full of games, stickers and colouring pencils. All of these free pirate goodies come housed in a special Captain Bluebeard bag that fits nicely over most car head rests so your little ones can continue their pirate adventure on the remaining road trip!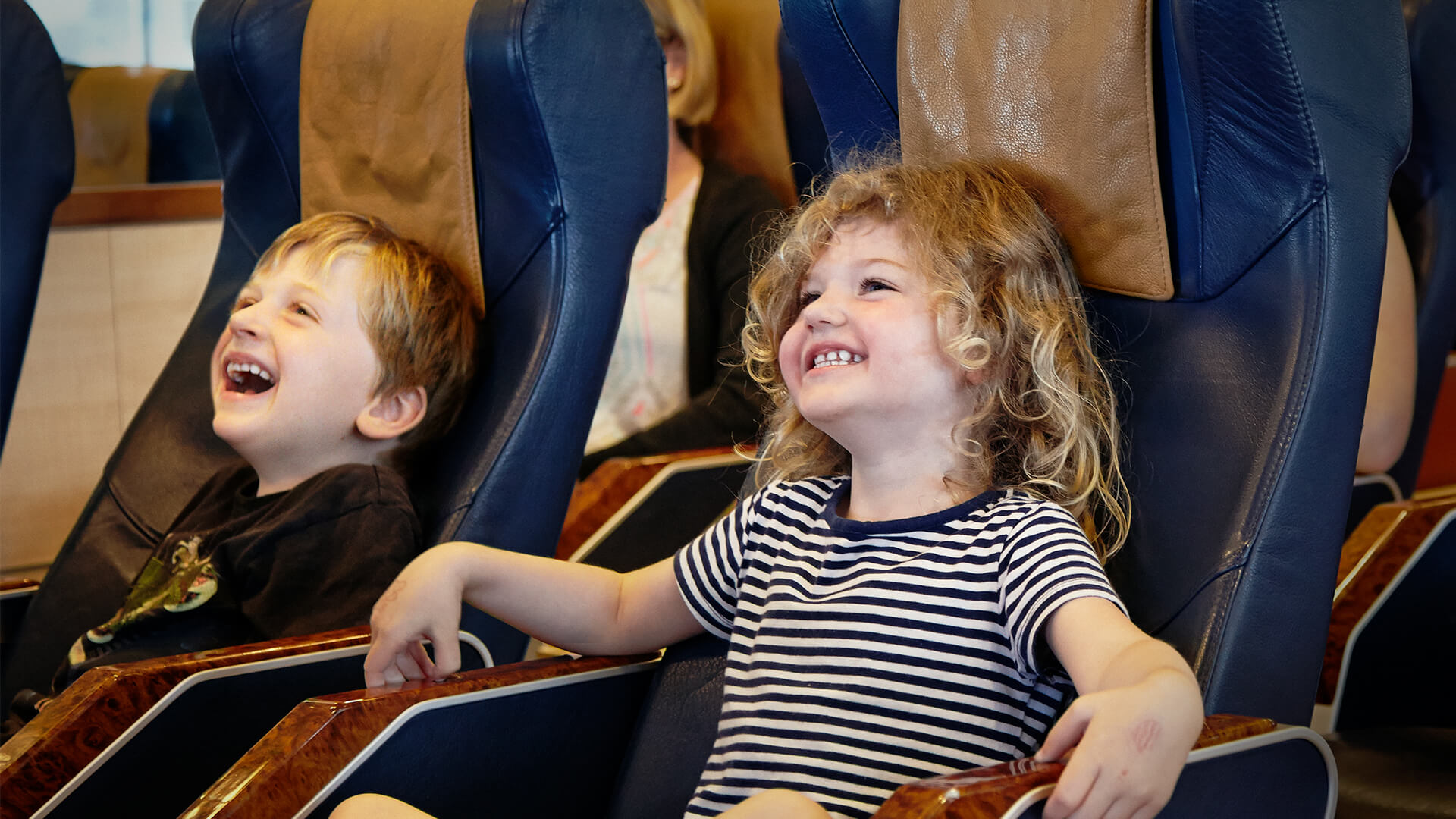 Free family-friendly movies
Catch a free recent release movie with your kids! There's always a G-rated or PG-rated film showing in our kid's areas to ensure fun for the whole family.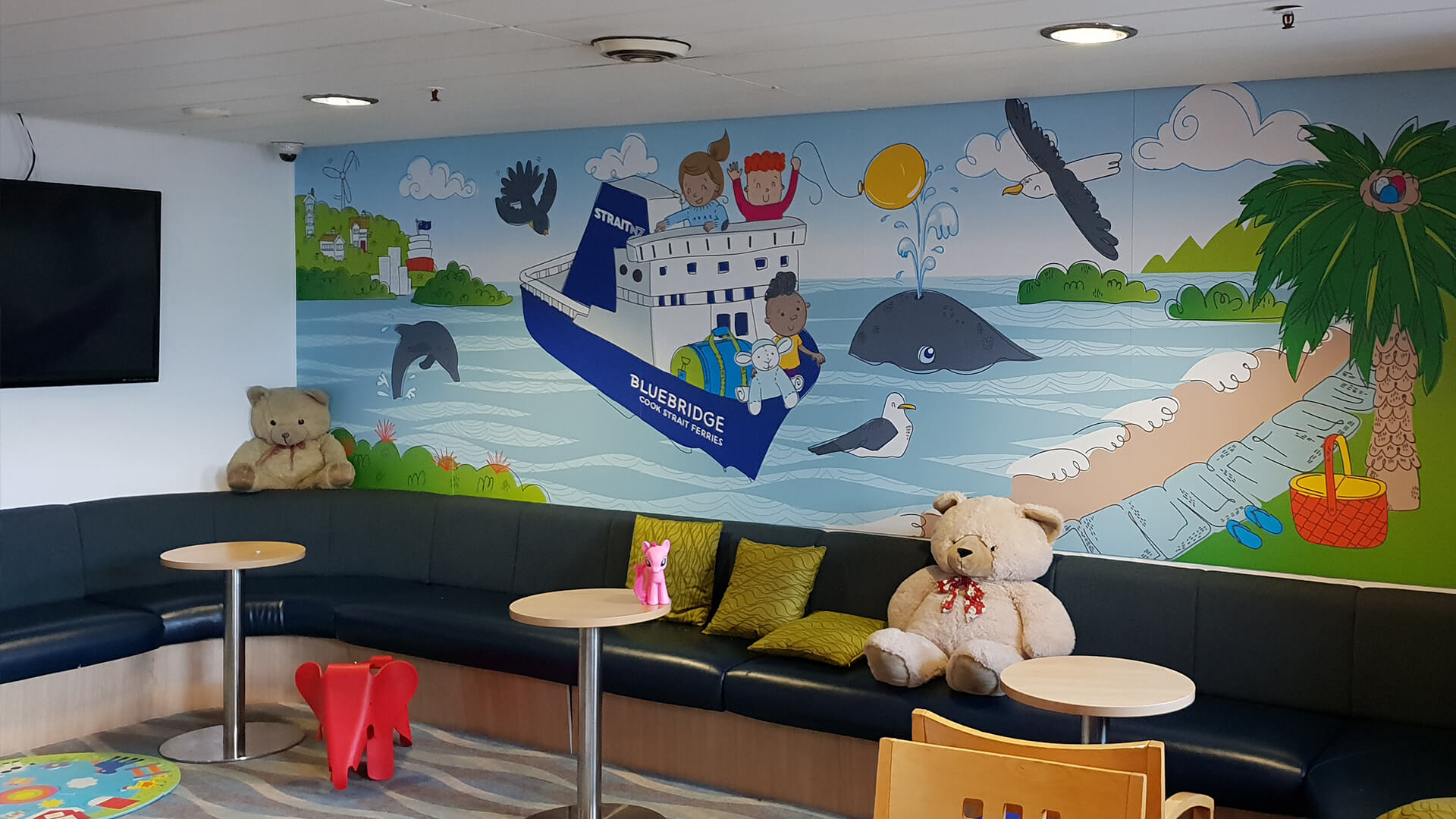 Child friendly spaces
Family cabins
We understand that when travelling with little ones it's nice to have your own space. Why not hire a family sized four berth cabin onboard the Straitsman. These cost just $60 each way and can include a portacot if required at no extra charge. You can reserve a cabin for your family when making your online ferry booking with us or visit reception onboard before the ferry departs. Our private cabins are popular so we recommend that you book one with your ferry ticket to avoid disappointment.

Play areas
Our Bluebridge ferries have ample indoor lounge spaces that include play areas for children.  Plus you can keep an eye out for wildlife in the outdoor areas all over the ship. 

Change stations
Family change areas are centrally located near the lounges on board and inside our Wellington and Picton passenger terminals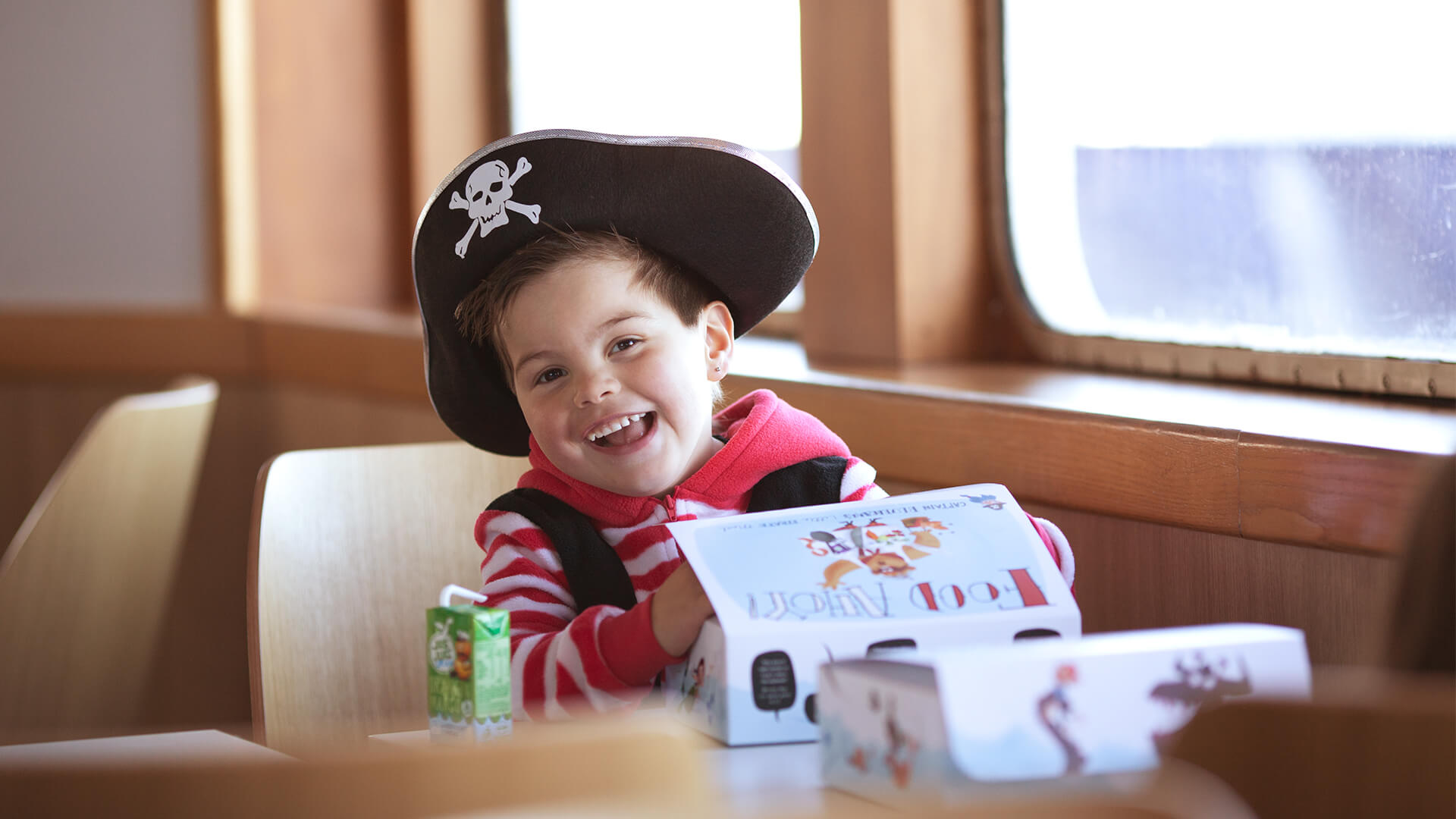 Captain Bluebeard's Little Pirate Meal
Captain Bluebeard's little pirate meal goes down a treat with children on board. For just $10, wee ones get three fish pieces with hot chips, Just Juice box, a slurpee and a set of free collectable pirate tattoos.
We offer a range of healthy snacks and baking along with some of New Zealand's most loved brands like Cookie Time.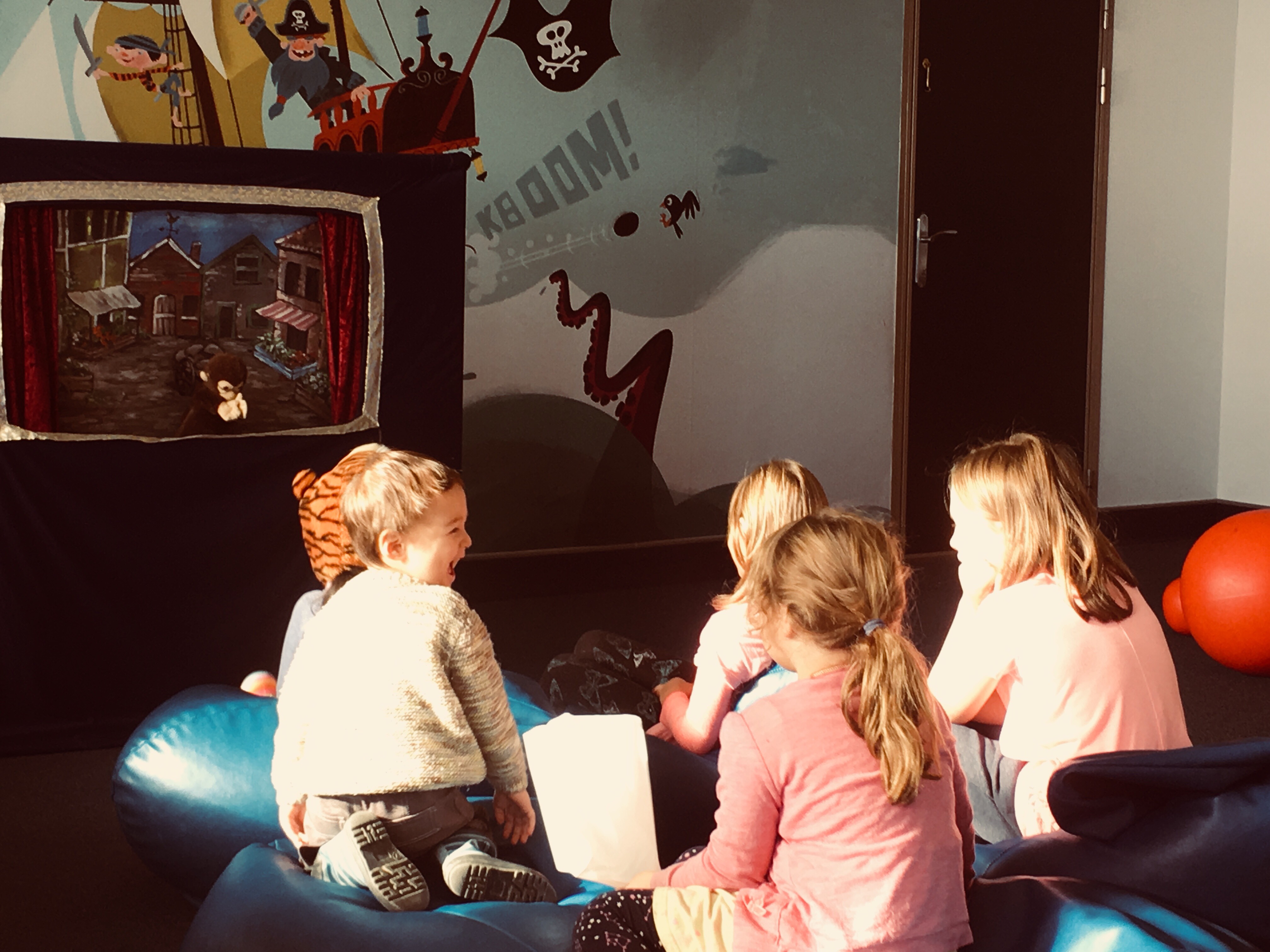 Live on-board kids entertainment
Our on-board entertainers are back these holidays on selected sailings!

Friday 3 July
8am WGTN Rainbow Circus
2pm PIC Rainbow Circus
Saturday 4 July
8am WGTN Enchanted Entertainment
2pm PIC Enchanted Entertainment
Sunday 5 July
8am WGTN Rainbow Circus
2pm PIC Rainbow Circus
Monday 6 July
8am WGTN Rainbow Circus
2pm PIC Rainbow Circus
Friday 10 July
8am WGTN Rainbow Circus
2pm PIC Rainbow Circus
Saturday 11 July
8am WGTN Enchanted Entertainment
2pm PIC Enchanted Entertainment
Sunday 12 July
8am WGTN Enchanted Entertainment
2pm PIC Enchanted Entertainment
Wednesday 15 July
8am WGTN Enchanted Entertainment
2pm PIC Enchanted Entertainment
Saturday 18 July
8am WGTN Enchanted Entertainment
2pm PIC Enchanted Entertainment
*Subject to change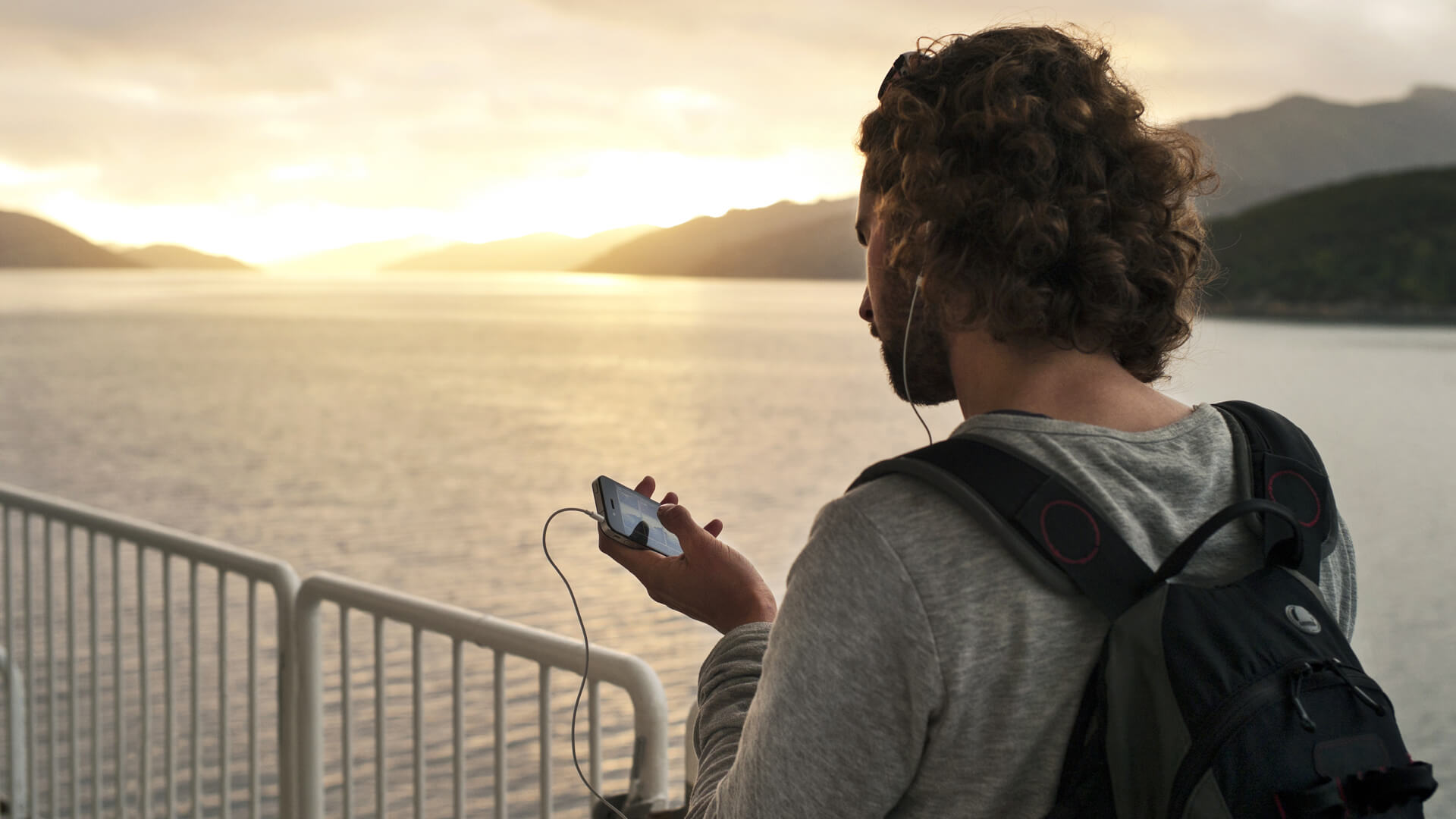 Free WiFi
The best WiFi on Cook Strait!
You'll enjoy faster, uninterrupted, free WiFi inside our terminals and onboard our ships for your entire journey across the Strait.
We've upgraded to VSAT technology which eliminates the previous black spots experienced across Cook Strait, which means you can browse the web, use social media and email during the entire 3.5 hour crossing with speeds similar to a 4G smartphone connection. 

Where can I get it?
WiFi is available in the passenger areas inside the terminals and the ships. Just look for the 'Free WiFi Area' signs.
What technology is involved?
Twenty-seven new VSAT WiFi receivers – each weighing around 4kg – have been installed onboard the company's two ferries, the Straitsman and Strait Feronia, with an antenna located at the top of each ship. The new infrastructure will also allow us to add other services over the coming 12 months, including new media and entertainment options, so keep an eye out for news about this.  
How do I surf Cook Strait for free?
Select 'BluebridgeWiFi' from your available wireless network list or on your wireless network control panel.
Open your web browser and connect to a website.
Our Free WiFi Terms & Conditions screen will appear. Hit the big blue button and then you're all set! If you have any questions, just ask our friendly staff.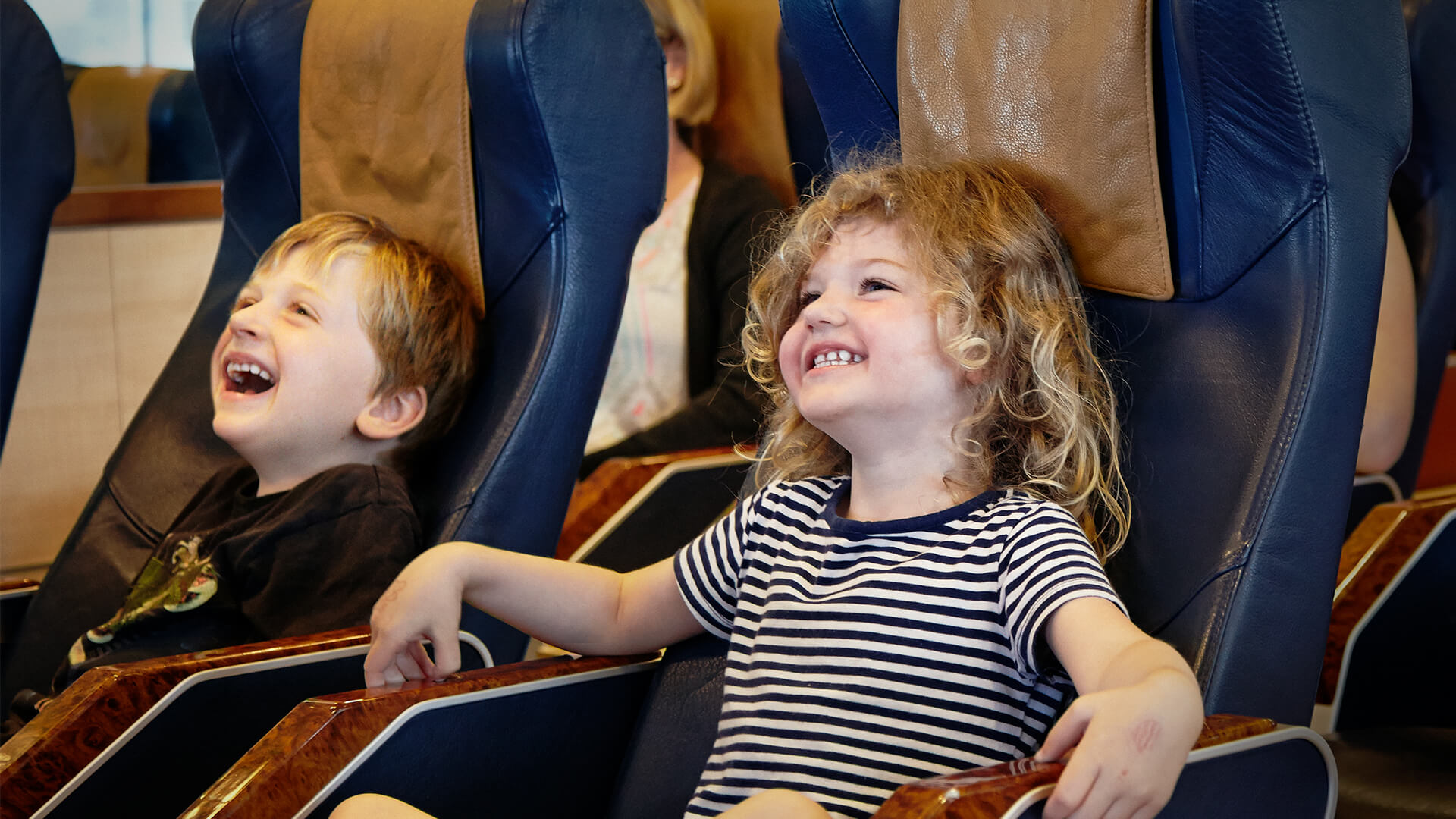 Free Movies
We play a range of popular films during our sailings, in dedicated free-to-access movie lounges. Check out the popular titles 'now screening' on board each of our Cook Strait ferries. This selection is updated regularly so be sure to check back before your sailing to find out what's on!
Movies showing in May:
Eddie the eagle

Poms

Wonder Park

Aloha

Ladies in Black

The Lorax

The Lego Batman Movie