Terminals
We have two passenger terminals equipped with various facilities and centrally located in Wellington and Picton. While we don't have long term parking on-site, there are plenty of parking options nearby.
Wellington Terminal
Picton Terminal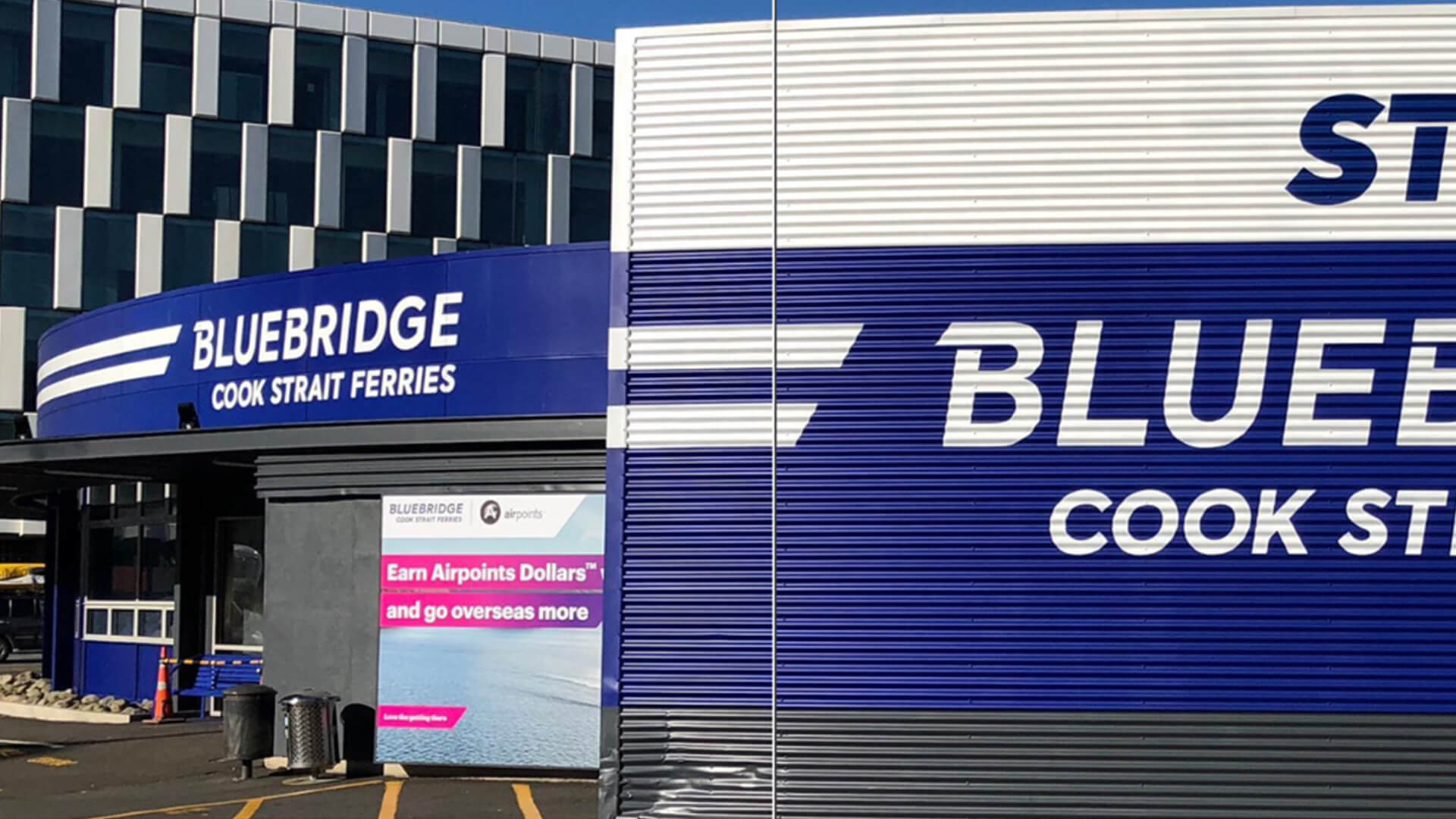 Our Wellington Terminal
Our Wellington terminal is conveniently located in the central city (50 Waterloo Quay), close to a range of accommodation options and tourist hotspots. Take a stroll to the Museum of New Zealand Te Papa, or sit back and enjoy the harbour views. Opposite the terminal you'll find Wellington Railway Station, which includes a New World Metro supermarket.
Please visit the Contact Us page to check the terminal opening hours. Facilities include:
Free Wi-Fi
Toilets
Baby change areas
Comfortable seating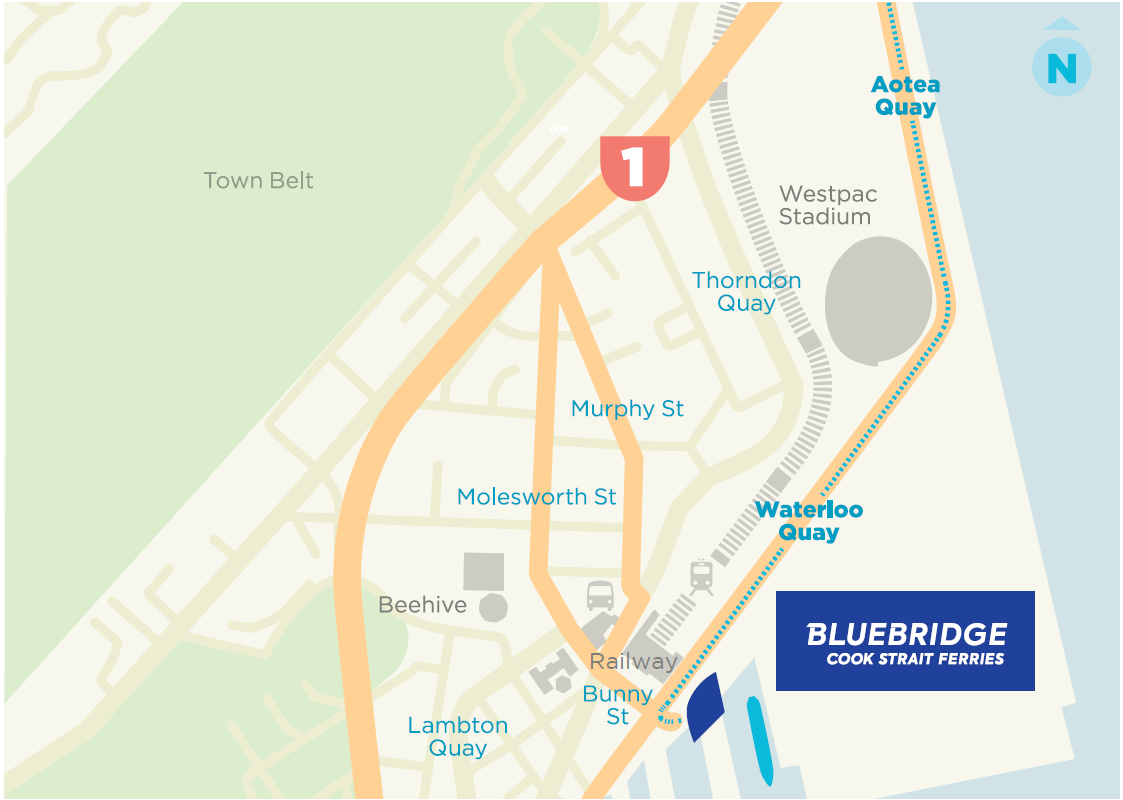 Getting to the Wellington Terminal
If you're heading south towards Wellington, take the Aotea Quay exit off the motorway and follow it round past Sky Stadium on your right. The terminal is about one kilometre further on your left. 

If you're travelling by foot, catch a train to Wellington Railway Station and you'll find our terminal just across the road.
Parking
1. Care Park NZ, **Short Term Parking**
Care Park NZ offers hourly rates Monday to Friday. Pay at their ticket machine and display the ticket face-up on your dashboard.
Sky Stadium - Waterloo Quay, multi story, Pay & Display and manned booths, open Monday to Friday only, 750 car spaces.
2. Primeparking
Offers a wide range of parking options from casual and early bird through to monthly reserved and non-reserved parking.
Their closest car park to our terminal is 9-13 Stout Street. Find out more.

3. Wilson Parking
There are over 32 Wilson parking spots located in the Wellington CBD. You can find these listed on their website: https://www.wilsonparking.co.nz/find-a-park

Station Car Park - 83 Waterloo Quay, uncovered, opposite our terminal.

15-21 Victoria Street offers 24/7 parking.

Please contact Wilson Carpark directly if you have any Long Term parking queries or if you are staying longer than 1 day you can pay through the ParkmateNZ App.

4. Motorhome and Campervan Parking
Wellington has a range of different Motorhome and Campervan Parking options. You might find the below websites helpful:

Cuba Street Motorhome Park - Size limit of 7.2m & self service
Capital Gateway Campervan Park
Wellington Top 10 Holiday Park
Te Papa Parking options - Size limit of 6.5m and only allows 1 night stays
Evans Bay Marina Carpark - Overnight Campervan Parking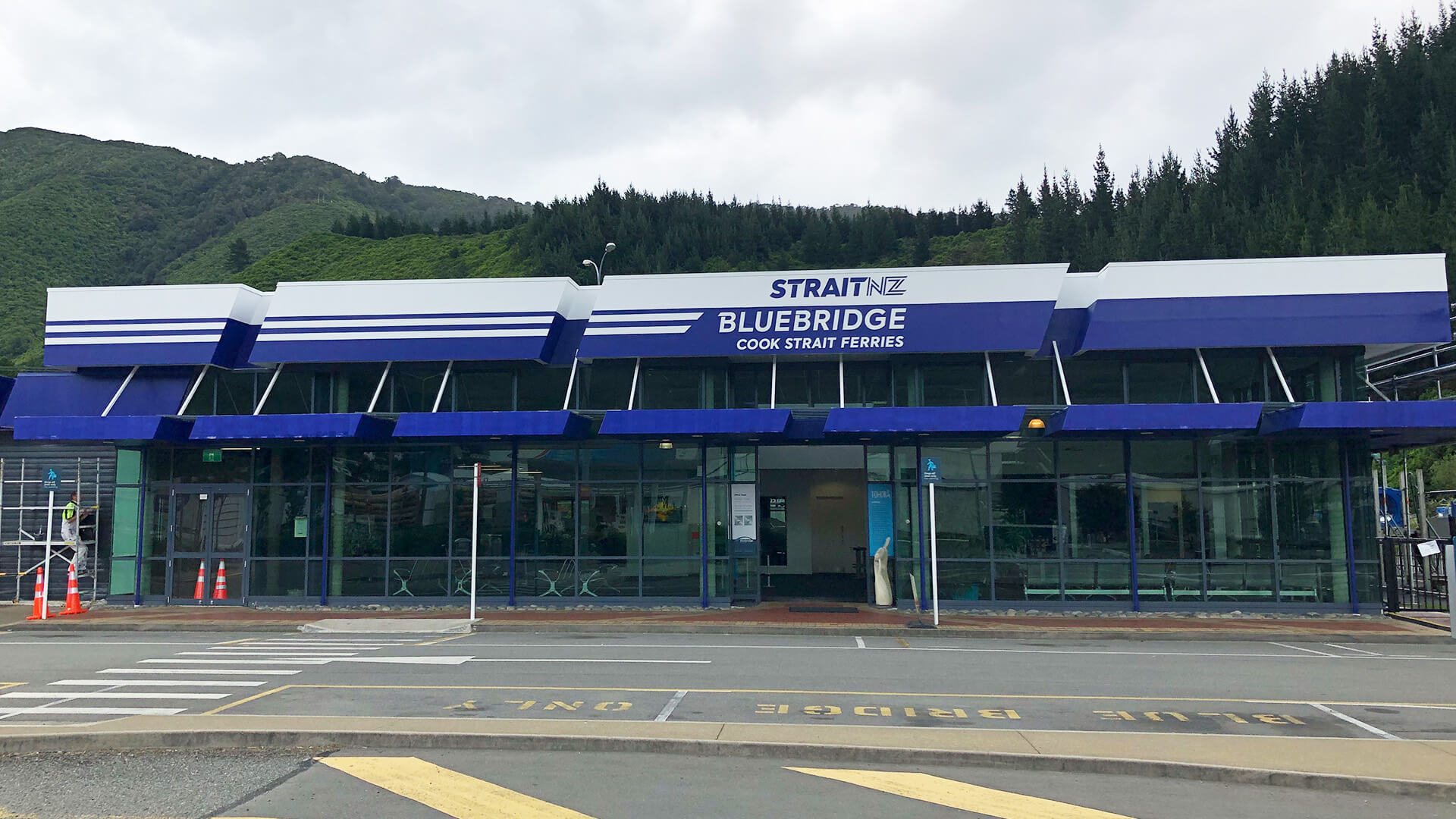 Picton Terminal
Our Picton terminal is located at 1 Lagoon Road, less than a kilometre from the town centre. For foot passengers a shuttle service is available and will pick you up from the i-Site in town. If you have come from Wellington, the shuttle can drop you off at a range of locations around town.
You can check your emails with our free Wi-Fi, let the kids have a run around in the children's playground, or sit back and relax while you wait for your ship to set sail. Please visit the Contact Us page to check the terminal opening hours.

Facilities include:
Free Wi-Fi
Toilets
Baby change areas
Children's playground
Comfortable seating
Snack and coffee machines
Complimentary shuttle bus for walk-on passengers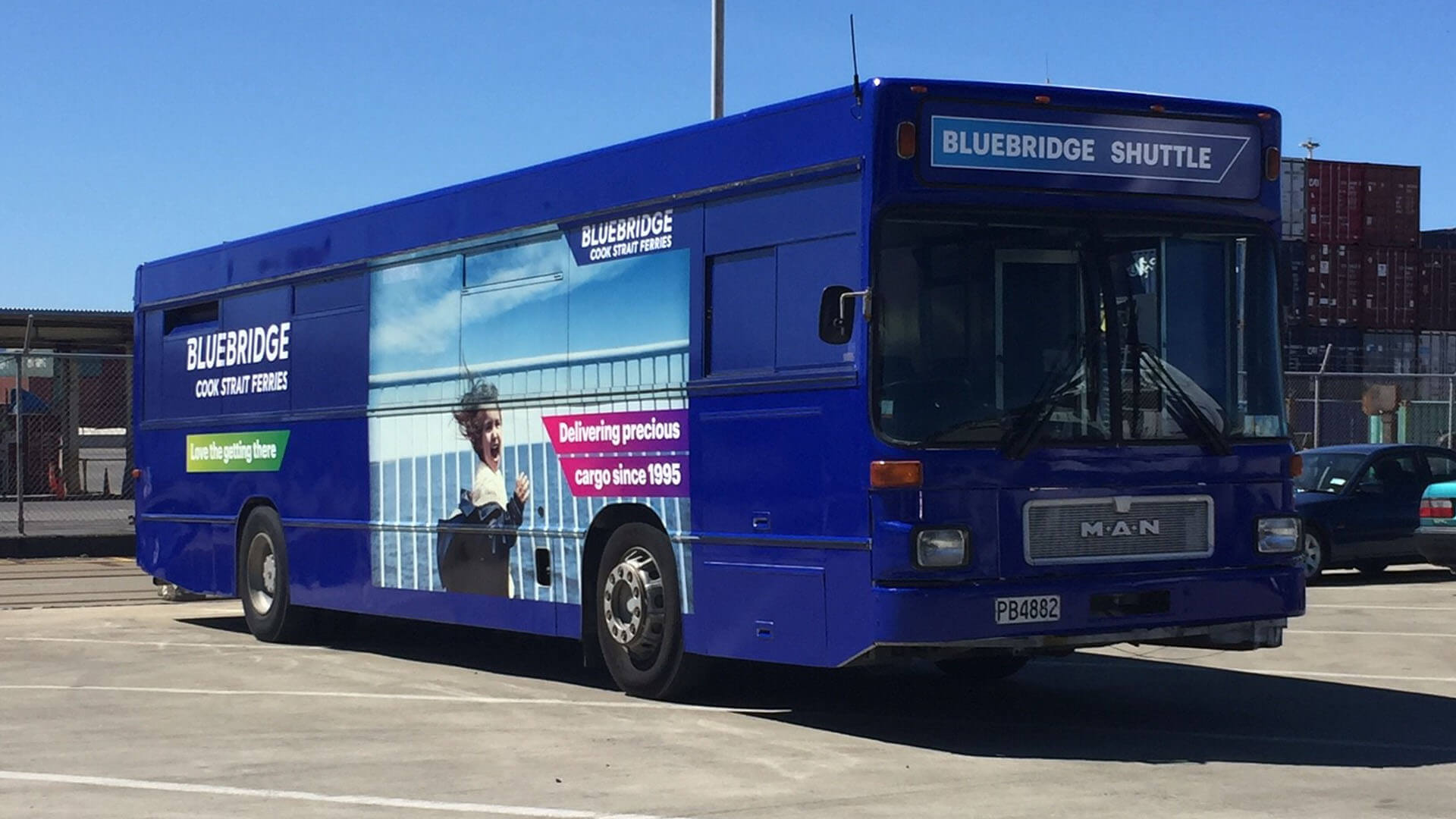 Getting there
If you're driving north on State Highway 1 towards Picton, turn left at Kent Street and travel less than a kilometre until you reach the roundabout and Bluebridge terminal ahead on your left.
Complimentary Shuttle Bus
Walk-on passengers can be picked up by our complimentary shuttle bus service at any of the following stops:
Picton i-SITE (Picton foreshore)
Oxleys Tavern (Corner of Wellington Street and London Quay)

Our bus does a pickup run 1 hour and 15 minutes prior to each sailing departure from these points. Please ensure you are there 5mins prior to the pick-up time.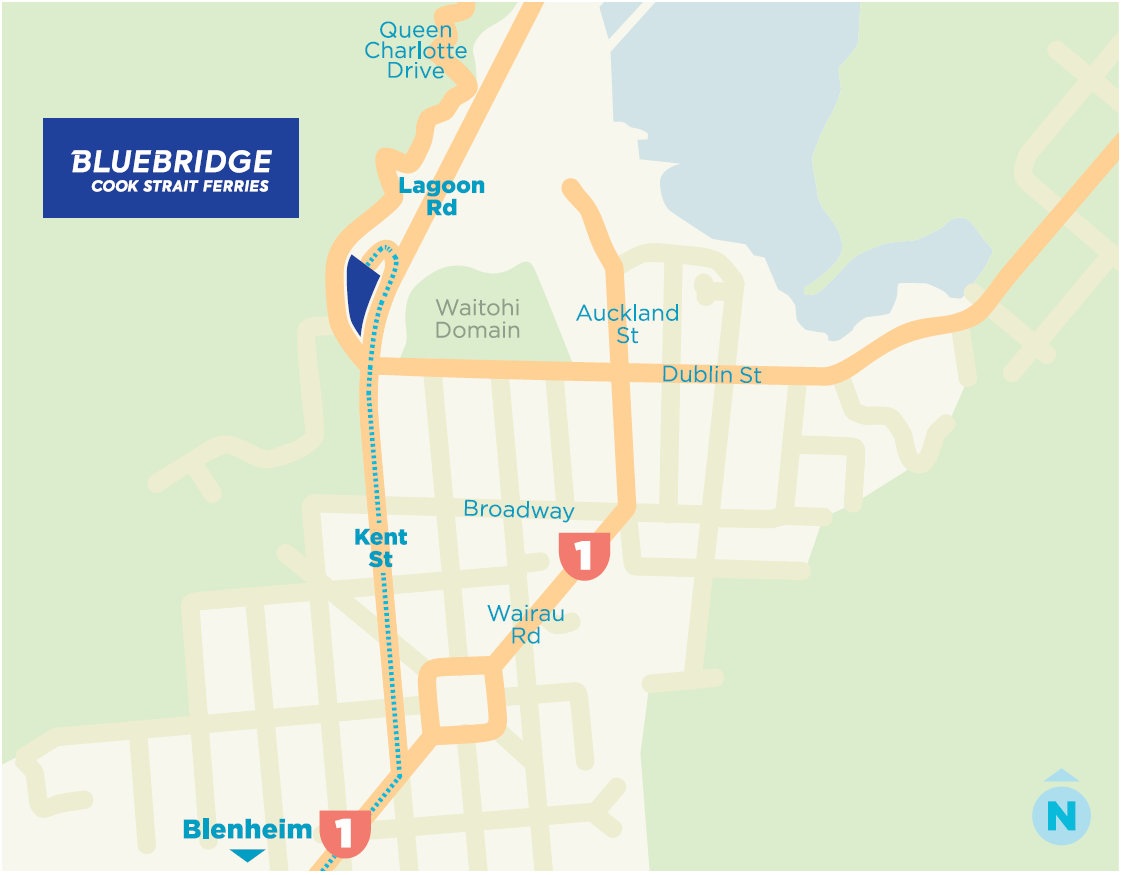 Pay and display - uncovered parking
Longer-term parking is available directly opposite the terminal. This is a Pay and Display system and costs $1 per hour, or $6 per day. You can pay by text, credit card, coins or remotely here. For more information visit Marlborough District Concil.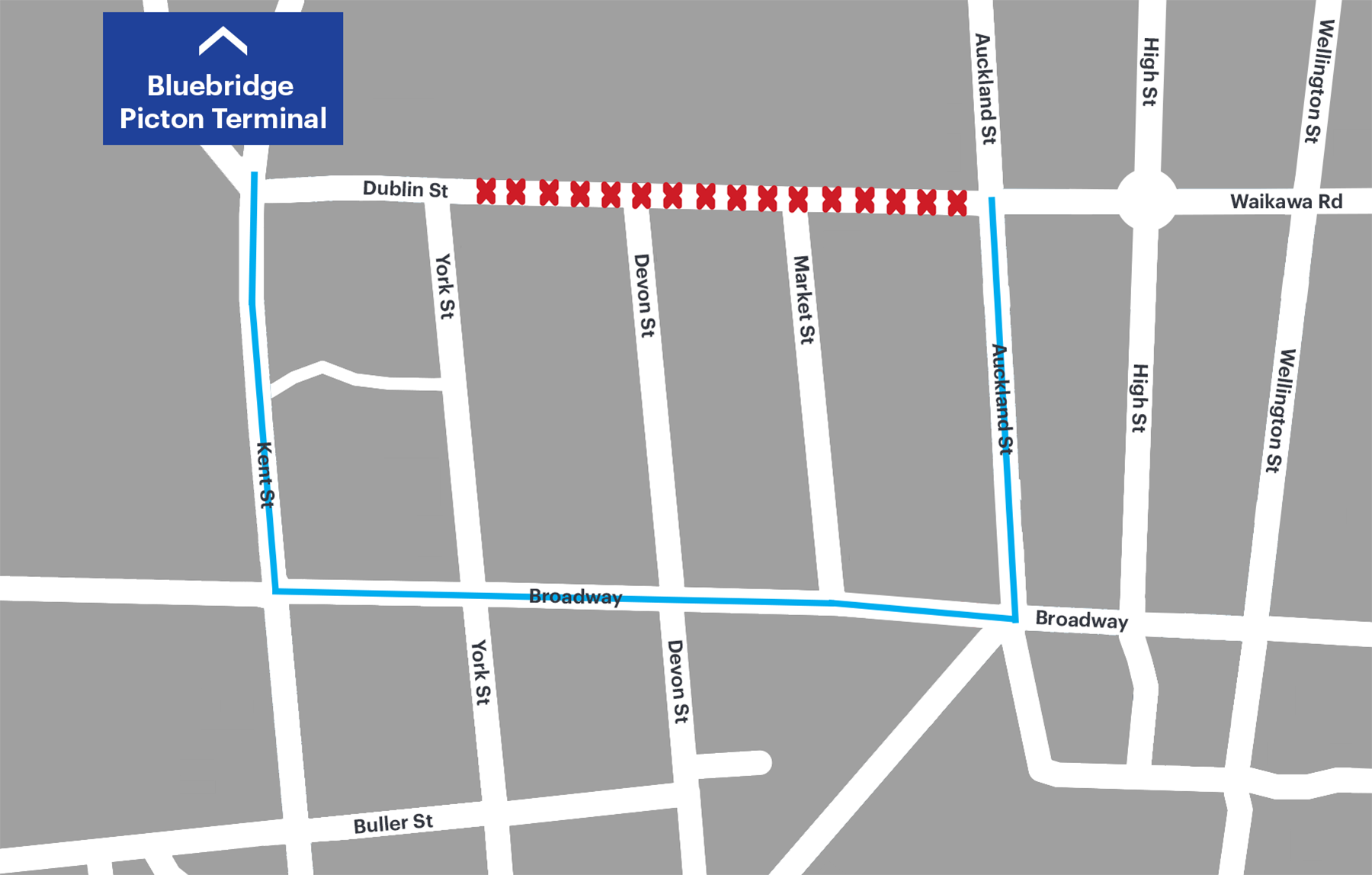 Road closure - Dublin street
Dublin street is now closed to both pedestrians and vehicles. The road closure is for the construction of the overbridge and should be completed in April 2025. Once complete, the overbridge will create a key connection for vehicles, pedestrians, and cyclists between the town and port area.
Foot passengers
You can detour through Broadway, which is open for pedestrians and cyclists only (please refer to the map). It's a longer journey, so please allow more time for it.
Vehicle passengers
Please follow the road sign detour to reach our terminal.