The trip
Everything you need to know about the Journey through Cook Strait and our ships. You can even find out where our ships are right now.
Journey
Our Ships
Live Ship Location
Disruptions
Our sailing route
From the dynamic, hilly cityscape of Wellington Harbour out through the rugged rocks and steep cliffs above the Wellington Heads – this is a journey of spectacular contrasts.
On a clear day you can see the outline of the South Island as you depart Wellington. As you sail the short stretch of open water between Wellington Heads and Tory Channel, look out for dolphins, whales and other wildlife that often keep our ferries company.
The route through Tory Channel in the Marlborough Sounds looks good from every angle. Rolling hills, lushly covered with native New Zealand bush to the water's edge, are dotted with the occasional remote holiday home, with water access only.
As you cruise Queen Charlotte Sound towards the pretty town of Picton, you'll experience an area world-famous for its beautiful beaches, bush walks and great climate.
Strait Feronia
Built in 1997, the Italian designed and built Strait Feronia has the ability to take up to 150 cars and 400 passengers. Prior to entering service in New Zealand the vessel received a full refurbishment of the public areas to meet our customers needs. The refurbishment included the introduction of a movie lounge, quiet lounge, family room, working station and an upgrade to the cafe and bar area.
Formally called the Stena Feronia, the ship joined our fleet in June 2015 after sailing an overnight service between Gothenburg (Sweden) and Kiel (Germany). The vessel was renamed 'Strait Feronia' recognising its past heritage and its future with StraitNZ (formerly known as Strait Shipping).
Features
Spacious contemporary
lounge areas
Café
Lounge bar
Quiet lounge
Movie lounge
Family room
Information area
Extensive decking
Viewing deck
Toilets and baby
change areas
Work stations
Comfortable private cabins
Facts
Built: Cantiere Navale
Visentini, Italy, 1997
Length: 186m
Beam overall: 25.6m
Gross tonnage: 21,856
Draft: 6.4m
Main engines: Two Wartsila 8L46B - total
15600 kW
Service speed: 16 knots
Freight capacity: 2,150
lane metres
Passengers: 400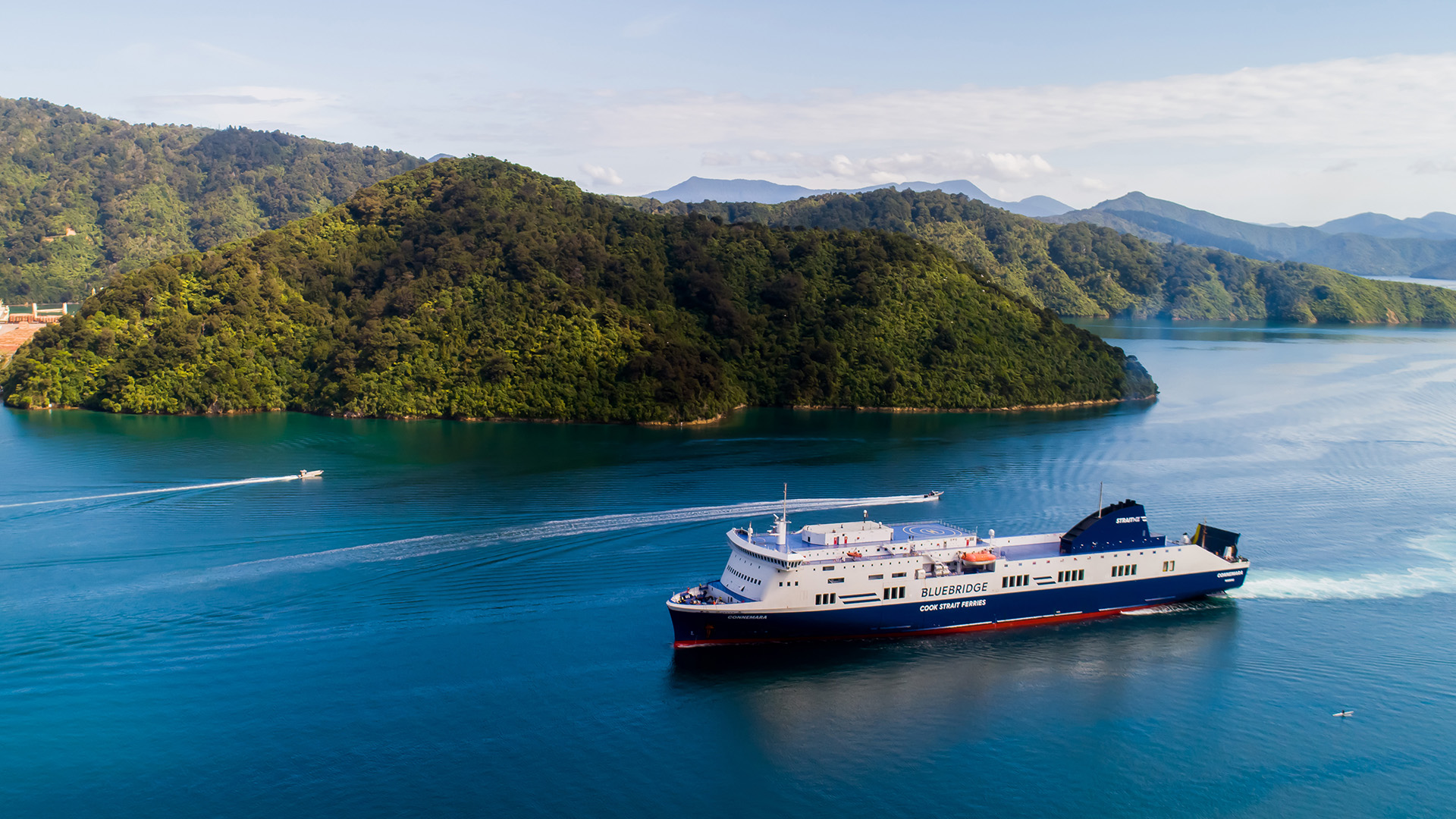 Connemara
Built in 2007, Connemara carries up to 2,255 lane meters and up to 500 passengers. Connemara joined our fleet in February 2023 after sailing a twice-weekly route between Cork, Ireland and Santander, along with an additional route between Cork and Roscoff, France.
Features
Spacious contemporary
lounge areas
Café
Lounge bar
Information area
Family room with free movies
Extensive decking
Viewing deck
Toilets and baby
change areas
Comfortable private cabins
Dedicated dog-friendly cabins plus outside communal dog exercise area
Facts
Built: Cantiere Navale
Visentini, Italy, 2007
Length: 186.5m
Beam overall: 25.6m
Gross tonnage: 27,414
Draft: 6.3m
Main engines: 2 x MAN/B&W x 10,800 kW each
Service speed: 22 knots
Freight capacity: 2,255
lane metres
Passengers: 500
The real time map below shows our most recent ship movements on Cook Strait. The location data is supplied by marinetraffic.com and is updated frequently.
Please note this map is only an indication of our ships' current position and is not intended to provide exact time of arrival or departure.
Disruptions
If you have provided your mobile phone number as part of your booking, we'll try to contact you if a sailing is delayed or cancelled. In the rare event of a sailing cancellation, we will book you on the next available sailing or fully refund your ticket.
For the most part our ships glide peacefully back and forth across calm seas, carrying happy passengers to the Marlborough vineyards or to visit our capital city, Wellington. Often the crossing is idyllic and many days are at least comfortable since only a portion of the voyage is spent in open water. The rest of the time passengers cruise through Wellington Harbour and the sheltered Queen Charlotte Sound in Marlborough.
Unfortunately Cook Strait can also be one of the world's roughest stretches of water. It's part of the westerly wind belt known as the Roaring Forties. As the only gap between the mountainous main islands of the country, the strait acts like a wind tunnel. So from time to time we will cancel or delay a sailing to ensure passenger comfort and safety. For current changes or to confirm your sailing time, please contact us.
Road Closure Information
For up to date information about available routes, please visit www.nzta.govt.nz/ or call 0800 4 HIGHWAYS (0800 44 44 49). This includes links to real-time traffic updates and information about planned closures. Make sure you check your route before you travel.